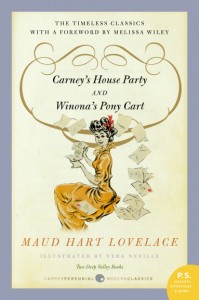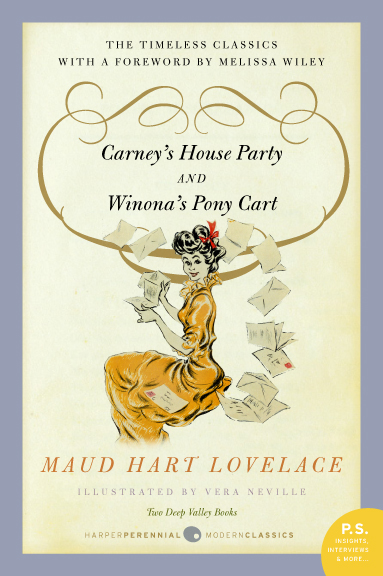 A very small taste of what I had to say about Caroline Sibley, aka Carney, in the foreword to HarperPerennial's scrumptious new double-volume edition of Carney's House Party and Winona's Pony Cart:
At times her present seems maddeningly full of unanswerable questions—Larry Humphreys is coming for a visit! Will they click, after all these years? What if they don't? And what is she to make of that happy-go-lucky Sam Hutchinson, who zooms around town unshaven in his Locomobile, recklessly lavishing generosity upon his friends and then, horror of horrors, telling shopkeepers to "put it on the book"? Carney faces each question with frankness and interest, even in painful circumstances. It's that combination of honesty and enthusiasm that makes Carney one of Lovelace's most likable characters. She's a real girl, rapidly becoming a real woman: a woman with integrity and vision, who doesn't look to others to solve her problems for her, but instead faces them head-on, confident in her own ability to untangle muddled thinking.
Oh, I just love her. There's lots more—when I get started talking about Carney (and Winona! and Betsy!) it's hard to stop.
Related posts:
Heaven to Betsy! High-school-and-beyond books being reissued! (Sept 2009)
Betsy and Tacy Go Over the Big Hill
The Betsy-Tacy Songbook
Interview with Mitali Perkins, Jennifer Hart, and me about Maud's books
Betsy-Tacy booksigning at ALA Midwinter
Photos of my visit to the real Deep Valley, as chronicled by Margaret in Minnesota
Interview with Mitali Perkins, Jennifer Hart, and me about Maud's books
Why I love Emily
A Reader's Guide to Betsy-Tacy