Her current favorites.
The Tiger Who Came to Tea by Judith Kerr. A tiger shows up at teatime and eats all the food in the house. What's not to love? Young Sophie and her mother are unfailingly polite to their ravenous guest, and at the end of the day there's an outing to a cafe—with Sophie in pajamas, which Rilla thinks is just about the best thing she ever heard. Pretty sure it was The Bookworm who introduced us to this gem: much obliged.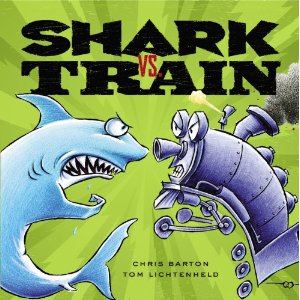 Shark vs. Train by Chris Barton, illustrated by Tom Lichtenheld. I raved about this one a while back: Two little boys run for a toybox and brandish their selections in triumph and challenge. Shark vs. train—who wins? It depends…what's the competition? Pie-eating? Diving? Marshmallow roasting? The stakes keep escalating, to hilarious effect. Rilla and Wonderboy sit and pore over the art, which is sharp and comic and enchanting. I predict numerous awards for it this year, just you watch and see.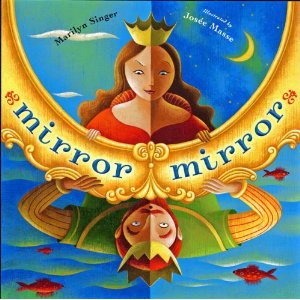 Mirror Mirror by Marilyn Singer. I read about this one at The Poem Farm and tracked down a copy straightaway. You guys, it's amazing. Each spread is a poem based on a fairy tale—a form called a "reverso," invented by Singer. You can read it from two directions: top down and bottom up. This isn't just for little kids; my older girls passed it around the day it arrived, all of them intrigued. Fun, clever, inspiring. Thanks for the tip, Amy. (Great review at A Year of Reading, too.)
I could add more books to this list, but breakfast beckons.
Comments
Penny says:

*Love* Mirror Mirror – so glad you mentioned that before – we've all been delighted by it!

tanita says:

Some AWESOME books – I really love the last two especially.

MelanieB says:

We've got Mirror Mirror out from the library now. The girls have asked for it a few times; but it hasn't been a favorite. I think the reverso concept is a bit beyond Bella. I love it though. Thanks for the recommend. We'll have to check out he others too.

Elizabeth H. says:

We must have read TTWCTT hundreds of times. Great book.

There's a very funny thread on Mumsnet (UK-based parenting forum) about it, altho beware of fruity language: http://bit.ly/cMWzDo

Will have to check out the other two with my gang.

Tom Lichtenheld says:

Thank you for your kind words about Shark vs. Train!
-Tom L.

Mamalion says:

Have you read the Mog books by Judith Kerr? We LOVE Mog, all but the last one, Mog's Goodbye, or something like that. Mog dies in that book. 🙁

Another favorite author right now for that age (and older, if truth be told), is Lynley Dodd. You have to read Hairy Maclary from Donaldson's Dairy. And Slinky Malinky and Scarface Claw. I'm just warning you though, they rhyme, and they're addictive. My favorite is Slinky Malinky, Open the Door. But you have to have read Hairy Maclary first.

Rachael in Australia says:

Ahhhhh, The Tiger Who Came to Tea was one of my favourites from my own childhood many moons ago. Our youngest is named Sophie and I can't wait until she is old enough to have this book read to her (she's just turned 2 and her 5 older siblings all adored it).

I completely agree with Mamalion about the author Lynley Dodd. She has a fantastic way with words and "Hairy Maclary" is a classic. She is a New Zealander and has been popular here in Australia for at least as long as I've had children (14 years). There is a really wonderful animated dvd series of her books – the script is 100% faithful to her fabulous vocabulary, nothing is added to the original text.

Elizabeth H. says:

I was convinced that Lynley Dodd was a man (with a strange name!) from Scotland (presumably I got this from 'Maclary'!!) Am totally amazed to find that she's a woman from NZ…! Am duly enlightened.

Agree on the reco, too, but I disagree about Mog. Such boring language, supposedly for beginning readers, but always read aloud in our house. The killer blow for me was that in one book, the baby is referred to as 'it' while Mog is 'she'. Grrrr!