Her current favorites.
The Tiger Who Came to Tea by Judith Kerr. A tiger shows up at teatime and eats all the food in the house. What's not to love? Young Sophie and her mother are unfailingly polite to their ravenous guest, and at the end of the day there's an outing to a cafe—with Sophie in pajamas, which Rilla thinks is just about the best thing she ever heard. Pretty sure it was The Bookworm who introduced us to this gem: much obliged.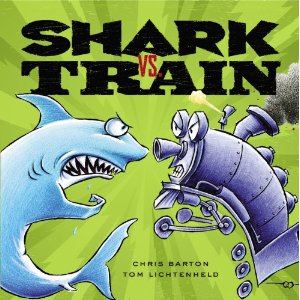 Shark vs. Train by Chris Barton, illustrated by Tom Lichtenheld. I raved about this one a while back: Two little boys run for a toybox and brandish their selections in triumph and challenge. Shark vs. train—who wins? It depends…what's the competition? Pie-eating? Diving? Marshmallow roasting? The stakes keep escalating, to hilarious effect. Rilla and Wonderboy sit and pore over the art, which is sharp and comic and enchanting. I predict numerous awards for it this year, just you watch and see.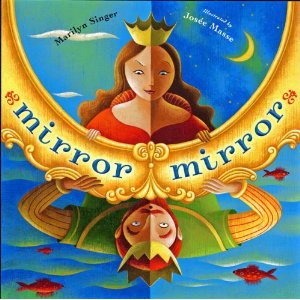 Mirror Mirror by Marilyn Singer. I read about this one at The Poem Farm and tracked down a copy straightaway. You guys, it's amazing. Each spread is a poem based on a fairy tale—a form called a "reverso," invented by Singer. You can read it from two directions: top down and bottom up. This isn't just for little kids; my older girls passed it around the day it arrived, all of them intrigued. Fun, clever, inspiring. Thanks for the tip, Amy. (Great review at A Year of Reading, too.)
I could add more books to this list, but breakfast beckons.