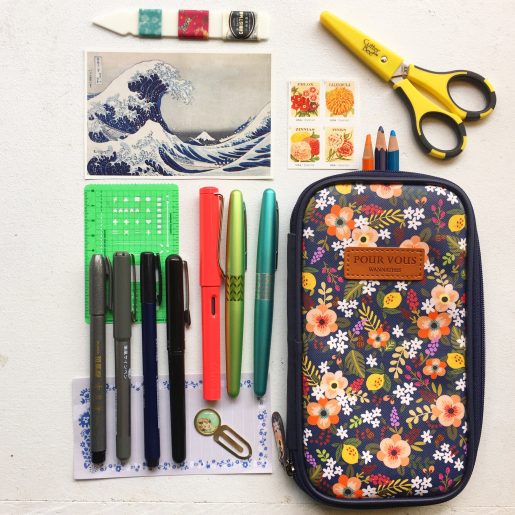 I put this on Instagram and decided to carry it over here in case anyone needs stocking stuffer ideas. 😉 The Amazon links are affiliate but not the JetPens links and the rest.
Everyday pen carry, deconstructed. Washi samples, a beloved Hokusai print I cut out of an old desk calendar, postage stamps, scissors. Hobonichi stencil, Galison notepad (last sheet, wah!), and a Reset Girl "planner honey" clip. I think the washi samples were a freebie included with an order from Etsy seller Cute Things From Japan.
Favorite drawing pens, left to right: Zebra brush pen, Kuretake brush pen in gray ink (my new love), Tombow blue body brush pen, hard tip (which I find myself reaching for more and more often—I like it better than the UniPin or Micron), Pentel Pocket Brush Pen (this one has been a total game-changer for me).
Favorite writing pens: Lamy Safari (pink), medium nib, blue-black ink. Pilot Metropolitan fountain pens, both medium nibs, one gray ink (I forget which, from a Goulet gray sampler), one my dream ink, Pilot Iroshizuku Shin-Kai, a deep navy blue.
I always carry a few Prismacolor pencils with me. Turquoise is essential to my well-being and then I always pack an orange, green, or ruby red/fuschia shade for contrast. I use these for sketching and fancy headers as well as for calling out key events in my planner, or coloring in my to-do boxes. And then I like to pack one or two Faber Castell watercolor pencils for easy planner/journal decoration. Deep blue is my favorite. (That link goes to a set of 36, with a price tag way beyond my art supply budget. I have exactly three colors of these pencils—blue, cranberry, and grape. They layer wonderfully.)
All of these inks and pigments are dreamy in my Hobonichi Cousin and Weeks planners, my Midori Travelers Notebook (I favor their 002 grid inserts), and on the flecked, recycled papers of the impossibly lovely Wild Simplicity Daybook inserts.
Floral pen case from MochiThings (I recommend watching for their sales because otherwise they're pricey). I carry my tiny watercolor palette and waterbrushes in a separate pouch, but they fit in this case too if I leave a few pens home.
For the papery side of things—see these posts:
Planner Love
Notebooks and Sketchbooks and Planners, Oh My