March 3, 2021 @ 10:13 am | Filed under:
Books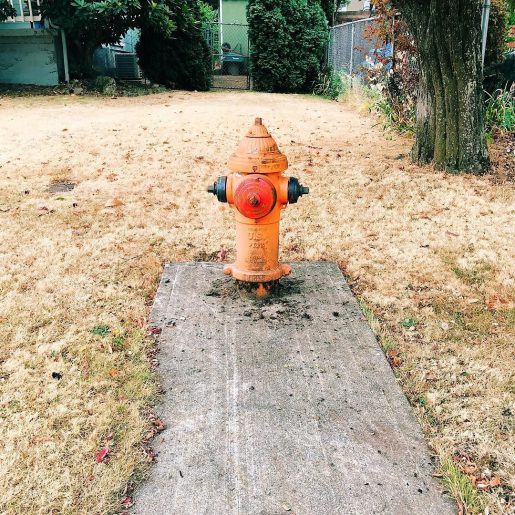 I've been reading a lot of Natalie Goldberg in preparation for a workshop I'm taking this month. She always makes me wild to write, write, write—but reading her this time around, a year into pandemic hibernation, she's also making ache for coffee shops and sleepy afternoon pubs. Walking down Fremont Street to the sports bar whose back room was all empty tables between three and six, passing the stone retaining wall with the succulents sprouting from every cranny, the yard with the hollyhocks towering over my head, the yard with the two small dogs who tore furiously around the corner of the house to proclaim their hatred and suspicion of all passersby, especially me. Except once when the growlier of the two wasn't around, and the other dog trotted right up to the fence, wagging, interested, asking for my phone number. The next time I passed, the angry dog was back, insisting on warfare, and our promising friendship was shattered.
Tulip trees and daffodils on the median strip. A pair of shoes neatly lined up next to a port-a-potty in front of a house undergoing renovations. For weeks, those shoes stayed exactly put. Sneakers, once white, now gray, but no scuffs, not much sign of wear. The story behind those shoes—their precise placement beside the blue metal outhouse, not a millimeter out of line with each other—tormented and entertained me during weeks of walks while I was revising Nerviest Girl.
My revision was due in April (2019), and as the weather got lovelier and the spring more exuberant, I found I wanted to walk farther, so I would keep going, past the barber shop, the tiny art gallery, the quiet pub; past Goodwill truck in the corner lot next to the cemetery where coyotes are rumored to make their home; past the family-owned restaurant that got ruined by being declared the home of the best hamburger in America; past the donut shop whose line always stretched out the door and down the block, even in rain. Past pizza parlors and yoga studios and bakeries to—of all places, on that stretch of quirky indie shops—Starbucks. Such a cliché! But a place with good light, where I could park for hours without feeling guilty. I'm not a coffee drinker and I only like good Southern sweet iced tea, but the berry Refreshers are okay, and sometimes I treated myself to an almond croissant. I got buckets of work done at the window tables in that establishment, that spring, summer, fall. And the winter before, and the whole year before that, I spent so many afternoons writing in the dim back room of the sports bar that for a while Huck actually thought I had a job there.
If I got to Starbucks by three, I had a solid hour of quiet writing time before the kids streamed in from the middle-school down the street. Then I would lose long stretches to eavesdropping. By 4:30 the students had drifted out, and the after-yoga crowd would arrive, and parents with small kids on the way to activities, and a few college students meeting their tutors. I usually found another burst of focus and wrote until just shy of six. Sometimes I walked home up Klickitat Street, a very slight detour with hundreds more flowers, and other times, especially in rain, I'd stick to Fremont, and Scott would drive to pick me up, usually meeting me on the long cemetery block.
After Daylight Savings Time ended in the fall of 2019, I stopped making the walk—it got dark so early and my studio was cozier. Then my surgery in February, and I wasn't going anywhere for a while—dozens of stitches and two black eyes. And then, of course, March. I love my studio and spend a silly amount of hours in here—work, play, rest, even doing ballet lessons on Youtube, using my bookcase as a barre. But oh, how I look forward to venturing out to coffee shops again!
Does the little white dog still loathe the universe? Will the brown dog remember he wanted to be friends?
Are the white sneakers still lined up side by side?