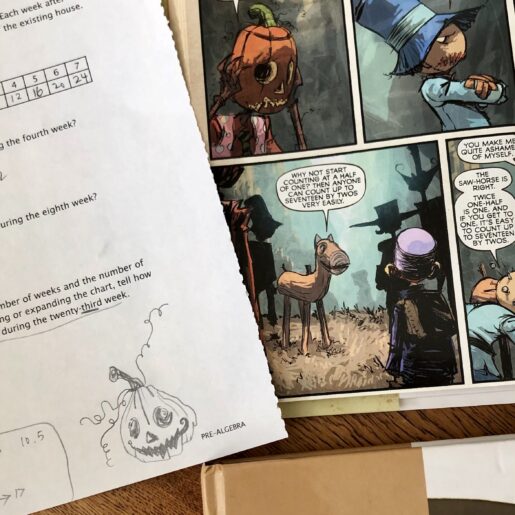 I'm circling back to yesterday's topic. The bird clock chirped before I got to the best kind of connections! A few hours later, laughing with Huck and Rilla over a math problem, I knew I'd want to revisit the subject today.
We've been doing the enrichment pages of Math-U-See's Pre-Algebra book together, the three of us. Side by side on the old green couch—a housewarming gift from Scott's parents in 1999 when we (then a family of four) moved from our little Queens apartment to a one-bedroom-bigger place on Long Island. That sofa has seen some life, let me tell you. Our first Christmas here in Portland, my parents gave us a nice new Ikea sectional—finally enough comfy seating for the whole family—but my entire crew refused to hear of the removal of the old sofa. It lives now under the windows in our dining area, a favorite place to flop and read or listen to music.
So: the green sofa, a page of puzzle problems on my lap, Huck and Rilla on either side. Huck had sharpened all the pencils right after breakfast, so I had a nice fresh point. The final problem on the page elicited a gasp from Rilla. That gasp—the inrush of breath that signals a connection has just been made—is my chief delight as a homeschooling mom. And in the connection of ideas, we connect with each other.
Huge chunks of this blog are devoted to chronicling those moments. My own notebooks are full of them—connections the kids have made between this book, that game, this show, that moment of hilarity in the kitchen; and my own connections too, the synthesis of ideas and images gathered on my greedy, plate-loaded-at-the-buffet, rabbit-trailing, metaphor-mixing lifelong learning adventure.
Rilla (who is celebrating her fifteenth birthday today, if you can believe it) jumped up and grabbed an Oz graphic novel off the shelf. The Eric Shanower & Skottie Young Oz adaptations were her favorite books to pore over as a tiny child; they're basically the books that taught her to read. (Along with good old Bob.)
Our math problem had reminded her of a tidbit she'd puzzled over many times as a little girl. In the book, Scarecrow and friends are plotting an escape from a flock of jackdaws. They have a handful of wishing pills but not enough to go around—not, says the Tin Woodman, unless they can count to seventeen by twos. The sawhorse declares that's easy to do, if you just start counting at "a half of one."
Rilla remembered being extremely confused by the sawhorse's logic. She could never figure out how he arrived at that solution. While we puzzled it out together (spoiler: he cheated), I absently doodled on the page. The kids laughed at me—this, too, is a longrunning point of connection for us and amusement for them. It's extremely hard for me to focus on what anyone is saying if I can't doodle or stitch or do something fiddly with my hands. (One reason I always encourage kids to draw, or play with Sculpey or beeswax, or crochet while I'm reading to them.)
And I guess the quiet pauses while kids work out math problems are another place I need the help of a pencil. The margins of their math books are full of nonsense drawings. I have a shelf full of elementary Math-U-See instruction books I can't resell because I've scribbled all over them!
Ack—there's that bird clock again. Time to go! We have birthday biscuits with chocolate gravy to make.
• encounters with beauty
• encounters with living books
• meaningful work
• imaginative play
• big ideas to ponder and discuss
• connection
• white space
If this post ends abruptly, here's why.
This post may contain Bookshop.org and Amazon affiliate links.

Would you like to receive my blog posts in your inbox? For daily delivery, click here to enter your email address. I also have a monthly newsletter!