October 23, 2015 @ 6:48 pm | Filed under: Periscope, Social Media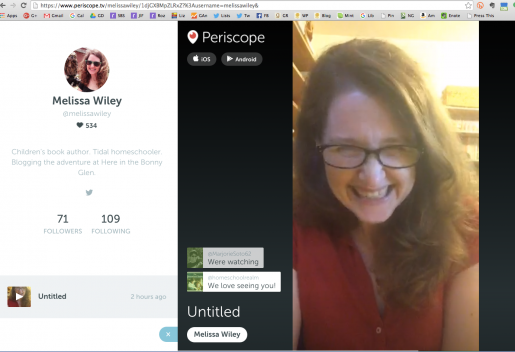 I've been meaning for a while now to give Periscope a try, because I think it would be a great platform for the kind of book- and resource-sharing I like to do here on the blog. This evening I decided to pop on for a trial run, just to see how the platform worked. To my surprise, viewers started arriving within seconds! I spent about ten minutes chatting with some very supportive friends, and I loved it. I'm hooked. This is something I can have a lot of fun with.
I'd love to know what topics you'd be interested in hearing me chat about. Today's viewers gave me some excellent suggestions, including doing some read-alouds of my work. I'm keeping a list of ideas and will try to do a scope at least once a week, if I can work out some better lighting than what I was getting in my bedroom for today's impromptu recording.
Because I hadn't yet signed up with katch.me to archive my scopes, this one will only be around for the next 20-something hours. By tomorrow evening (Pacific time), it'll be gone. (Sunday note: I was wrong! Katch.me caught it after all.) I'll aim for another round early next week, so let me know in the comments here what you'd like to chat about! And thanks so much to the sweet friends who dropped by and encouraged me with all those happy little hearts bubbling up on my screen. 🙂