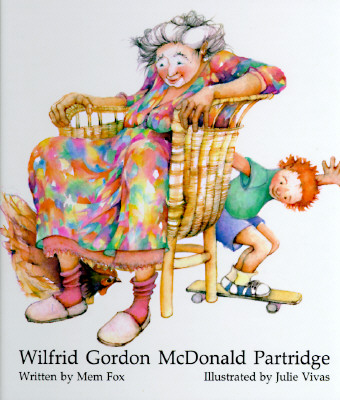 Wilfrid Gordon McDonald Partridge by Mem Fox, illustrated by Julie Vivas.
This may just be my favorite picture book ever. I discovered it during grad school when I worked at a children's bookstore, and it was love at first read. I don't think I have ever once read it without tearing up. When I read it to the littles yesterday, Scott had to step in near the end when I was too choked up to speak. It's a beautiful book, and true in the way that sometimes only fiction is.
Wilfrid Gordon McDonald Partridge is a little boy who lives next to an old-age home. He is friends with all the residents and loves to visit them. When he hears his parents say how sad it is that his favorite resident, 93-year-old Miss Nancy, is losing her memory, Wilfrid Gordon quizzes all the other old folks about what a memory is exactly. "It's something warm," one tells him. "Something from long ago." "Something that makes you cry." "Something that makes you laugh." And so on.
And so Wilfrid goes off and collects a box of treasures for Miss Nancy—a warm hen egg, a funny puppet, an old medal…
It's what happens when Miss Nancy handles the gifts that always makes me cry. Perfectly lovely, and Julie Vivas's tender colored pencil drawings are as lovely and moving as the story.