While Scott worked his evening portfolio review shift, I headed back up the many many steps to the Palau Nacional.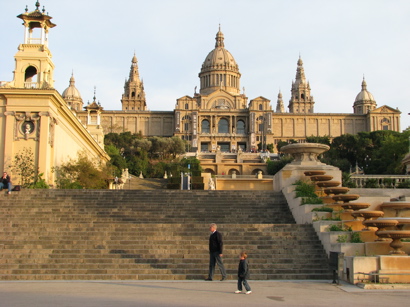 Don't be fooled. These are only some of the steps.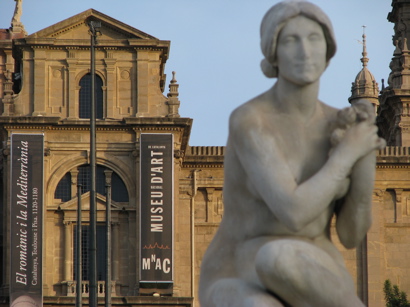 The admissions clerk told me my ticket was valid for two days, which was a good thing because that first evening, I only had time to visit one floor. I began with the upper story, the modern art wings. This museum, the National Art Museum of Catalonia, is one of the best art museums I've ever visited.
The building is a work of art in its own right.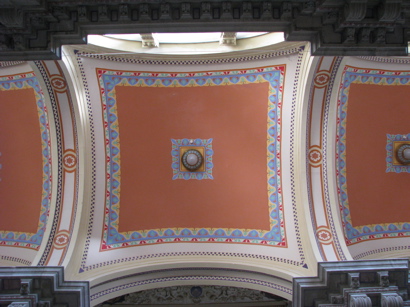 Ceiling.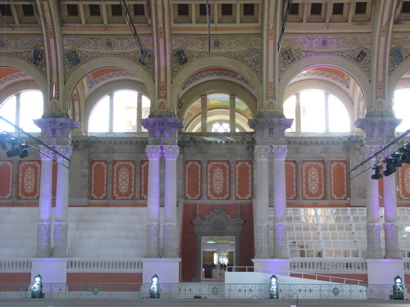 Auditorium.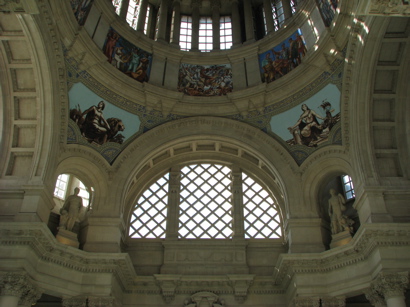 Main gallery, looking up toward the dome.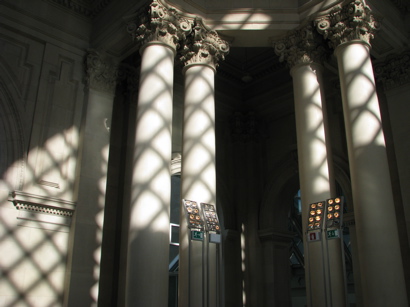 Main gallery.
I wish I could post images of all the paintings and sculpture that blew me away. Artists new to me were Nicolau Raurich and Lluis Rigalt, both of whom had a way of painting luminous skies that reminded me of Maxfield Parrish.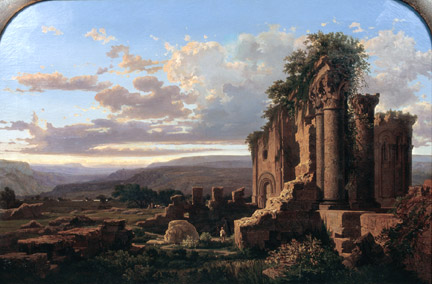 Ruins by Rigalt
I had heard of Fortuny and Joaquim Mir, but had never seen much of their work. Fortuny's The Battle of Tetuan filled an entire wall and was overwhelming in its scope and detail. Hundreds of small stories are being played out there in the larger battle scene. I loved the wealth of detail in his Spanish Wedding, too. You can view images of these at the MNAC website, but the images (even when you click to enlarge) are too small to show off Fortuny's genius.
There were a few small Picassos (I never did make it to the Picasso Museum, alas) and one Dali sketch. A larger Dali painting was on loan to another museum. I loved this sculpture by Llimona: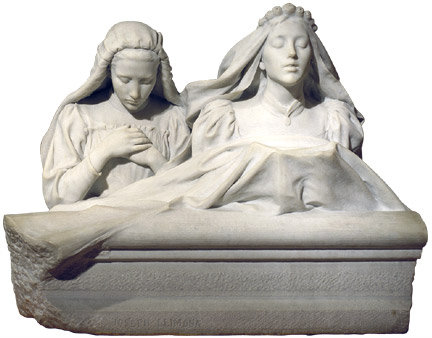 First Holy Communion
And this one by Claraso: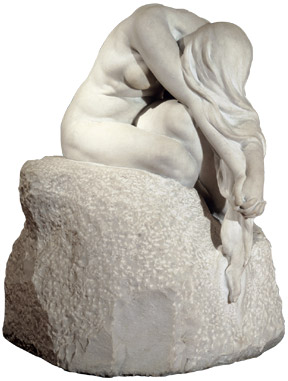 Eve
I knew my girls would love this dreamy painting by Joán Brull: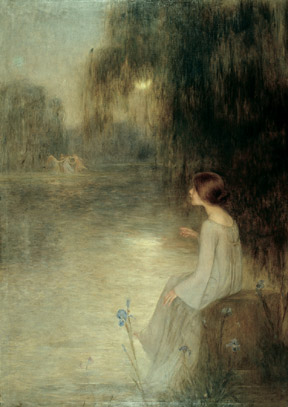 Reverie
Let me jump ahead now to Friday evening, when I returned for a few hours. This time I wandered through the rooms of religious art on the ground floor. Oh my goodness. Incredible sights to see there. Entire rooms are devoted to murals (or fragments of murals) recovered from old churches across Spain. These once vivid paintings are now faded and patchy, but you get a good sense of their majesty. The museum has replicated the size and shape of the interiors the murals once inhabited: room after room of domed ceilings and arched entrances. Hushed and full of shadows, these are solemn, contemplative spaces, illumined by scenes from the life of Christ in dusky blues and faded golds.
Other rooms contained ornate triptychs and gold-embellished paintings. The collections of Gothic and Romanesque religious art are world-famous, apparently. I can't begin to do these collections justice, so I'm not even going to try. One image that I saw reprinted all over the place on postcards and book covers was the Christ figure from this twelfth-century altar frontal:
Apostles Frontal from La Seu d'Urgell
My favorite piece of religious art was this magnificent Counter-Reformation painting by Juan de Zurbarán.
Immaculate Conception
In the bookshop I bought a museum guide that contains images of almost everything in the museum, and it's a good thing I did, because I'd have forgotten most of it already. I hope to track down prints of some of the paintings I loved, but I have to say a preliminary search has not yielded much fruit.
I tore myself away when the museum closed at seven. I knew Scott would be just getting off his shift at the con on the avenue down below. And now comes one of the most magical moments of the whole trip. I started down the first long flight of steps, marveling at how golden and beautiful the evening was and yet a bit wistful that there was an avenue of fountains ahead of me and all of them stilled. And just then, as the stairs took me past the highest fountain—it whooshed into life. Really. It was a waterfall, and as I traveled down the next few steps, the second tier of the waterfall burst over the ledge in a glittering spray. A few more steps, another waterfall—the awakening of the fountains keeping pace with my steps each time. It made me laugh out loud, it was so gorgeously serendipitious. It was like I was a Disney princess. I reached the broad flat level halfway down the hill, where the huge "Magic Fountain" fills the space. A small crowd had gathered round it and as I drew near, there was a sound like the intake of breath and then shhhh, up it came, the water arcing high above our heads from dozens of jets. And not just water, but music and lights. It opened with Clair de Lune, and I was not the only person there who got choked up.
But I didn't have my camera with me. I know, I know. I had already been up Montjuic four times by this point and thought I'd snapped everything I could possibly snap. But here's a YouTube clip from two years ago.
Magic fountain indeed.
Comments