[Huck], born January 13th, 9 lbs 12 oz. :::swoon:::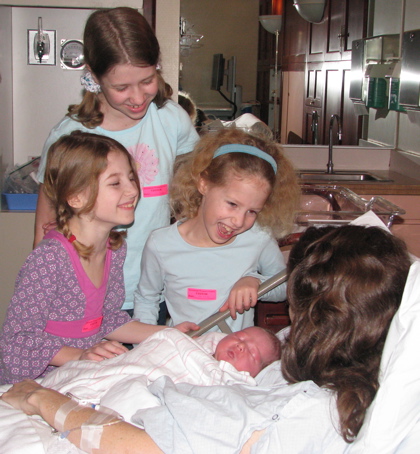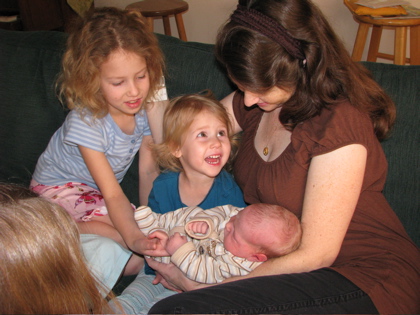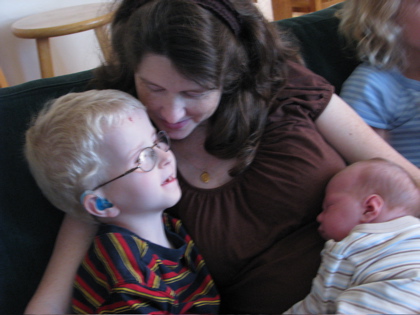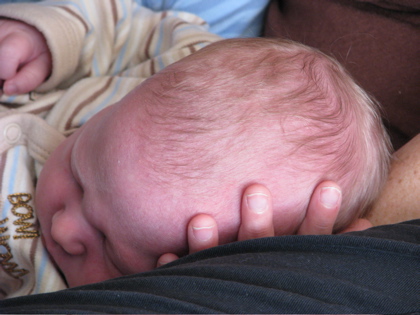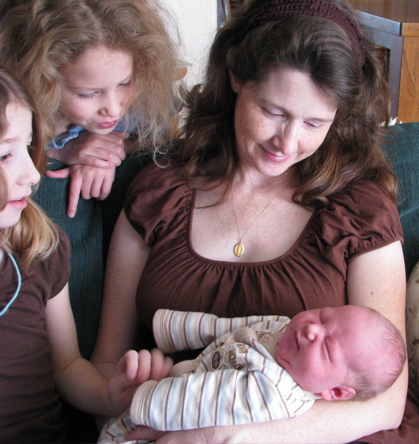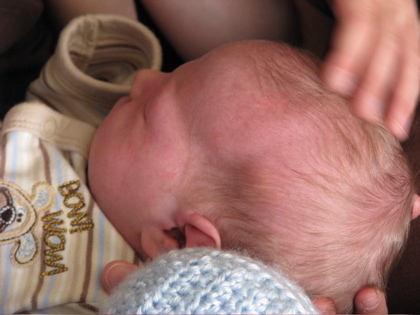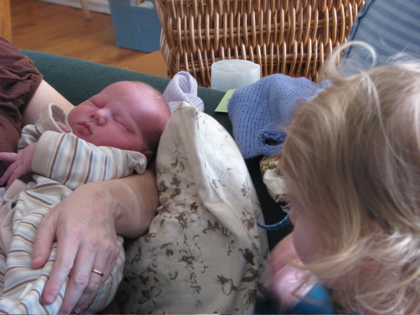 (Psst, sweet friend, see what's on the arm of the couch? The postman was walking up to our mailbox with your package at the very moment Scott, baby, and I pulled into the driveway. It's beautiful. Rilla approves wholeheartedly. Thank you so very much!)
And one last shot, decidedly less than flattering but a little gift for my Twitter pals: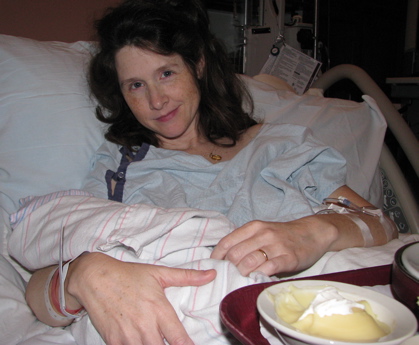 Put the ding-dang camera away, honey, so I can eat my PUDDING!
(I didn't know this photo existed when I was twittering about pudding this morning. When I uploaded the photos this afternoon, I saw it and laughed and laughed. Scott must have snapped that during the one brief moment in time when the pudding was actually still in the bowl. I'm sure I was licking the dish clean five minutes later.)
Comments
Christine M says:

What a wonderful happy family! Welcome to the newest member of your bonny clan!

Beth says:

These photos simply radiate love. I am shedding tears of happiness for you (or over you, or something). Life is such a gift and a blessing.

cici says:

so very sweet, lissa. all that baby love. congratulations to you and your family.

Michele Quigley says:

Oh what wonderful pictures! What a beautiful boy and a happy, happy family. Congratulations again! Welcome to the world little (hmm…big?) fellow. 🙂

Cheryl M. says:

Congratulations Lissa and family! I am also reduced to teary eyes looking at these beautiful pics of your family. Hugs to you! 🙂

Meredith says:

He is just so beautiful and you all look so happy to be reunited today!! Many many blessings and much more love from our family to yours!!! Congratulations Bonny one!

sarah says:

Finally, I can go to bed. One last check on the computer well worth it. He is delightful. Everyone looks to be completely tickled over the new addition. Enjoy your babymoon. Congratulations.

Lisa T. says:

Welcome home, Lissa and Huck (saving you from having to disappear his real name in the combox), and congratulations to all of you!

Jane says:

Congratulations on your new addition! God Bless!

Jen says:

Congratulations! He is beautiful. The whole family's delight in him beams out from the pictures!

Jenny says:

Congratulations! We have girl-girl-girl-boy-girl-boy too!

Kathy says:

Scrumptious baby boy and such a sweet family. Thank you for precious glimpses into these treasured moments.

JoAnna says:

OH– congrats! He's just so beautiful! Welcome to the world, you cutie boy!

Cate says:

We have a family friend who is a devoted fisherman. Whenever a family member would have a baby, he'd go to see it and would then pronounce the child a "keeper" — if he liked the looks of it, I guess. I don't know if any were ever judged not to be keepers.

Anyway, I've seen this one now, and I proclaim him to the world — a keeper. Good work, you guys!

sarah says:

What a wonderful, love-filled family you have. Congratulations from the bottom of my heart. He's gorgeous (no surprise there – look at your track record!) I love his name.

Well done.

Sarah N. says:

What a delightfully scrumptious little boy. Congratulations! Wishing you many happy underdone days welcoming your newest family member.

Angela says:

Congratulations! Adorable family!!

fiddler says:

What lovely, sweet photos–thanks for sharing! The new little one is gorgeous. Have a wonderful settling-in time together.

Alice Gunther says:

Absolutely fantastic!

Love the pictures!

Love the pudding!

LOL.

Jen Robinson says:

Congratulations!!! He's beautiful. Thanks for sharing the photos.

Stephanie says:

MAZEL TOV!
You look beautiful, Lissa! What a beautiful family!

Caryn says:

Congratulations! I love the photos. He is precious. You all look so happy. And I love his name! 🙂

Carmen says:

Congrats! What a beautiful baby boy! I was laughing at that "pudding" photo. I don't know why, but pudding is just the thing after giving birth. It was the best tasting thing I had and I kept requesting more!
Anyway, you all look so happy and there's nothing like a newborn!

Kathy in Melbourne, Oz says:

Congratulations, he is gorgeous to the max, and your family looks so thrilled to be welcoming him. And what a great size too – plenty of intrauterine nutritionfor him! It makes me even more eager for February to arrive (when I'm scheduled to deliver my own third bundle of lovin', in my case a girl 😉

Jessica says:

Congratulations! He is absolutely adorable!

Sarah says:

Congratulations!

Courtney says:

He is beautiful, Lissa! I'm so happy for you and your family! congratulations!

Stephanie says:

Long-time reader, first-time commenter coming out of lurkdom to welcome your (not so) little boy. Hard to believe that big, beautiful baby was safely tucked inside you just days ago. He looks like he's had weeks to plump-up and beautify.

Congrats!

Sara says:

He's beautiful! Love his double chin—just like my 10-pounder had!

Laura Jones says:

Hooray! Such wonderful news and such a gorgeous baby boy. Congratulations to you for the hard work and to all of you for the joy of a newborn! Enjoy. 🙂

Mama Squirrel says:

Such lovely photos–huge congratulations, especially from your young fan Crayons.

Jeanne says:

Beautiful!

Anne V. says:

I am so happy for you all. Enjoy these precious days.
Many hugs from the very cold midwest…you all have short sleeves on???

nina says:

Beautiful homecoming photos! Your girls look so happy and the expression on Rilla's face is adorable. Congratulations.

Praying that all is well.

Penny in VT says:

Oh, thank you so much for sharing the joy of your homecoming – everyone looks so thrilled to have Mama and baby back where they belong, in the heart of their loving family.

So sweet 🙂

Jennifer says:

Sean is gorgeous, you look great, congrats!

Jennifer says:

1. I was really hoping for Jabba (per Scott's blog link)
2. This is the most beautiful post ever.
3. You're welcome 😉 – It was made with a lot of love if not skill.

Susan says:

He's absolutely gorgeous! A warm and hearty WELCOME to your little one and CONGRATULATIONS to your family!

Beth says:

Congratulations! What a beautiful family!

Stephanie in AR says:

Congradulations! He is beautiful & sturdy for all those sibling hugs. Seems just yesterday it was Rilla who was the newest edition.

WendyinVA says:

Wonderful pictures! Beautiful boy! And you look way too good for having just given birth. :o)
Congratulations to all of you!!

MotherReader says:

Congratulations! Thanks for sharing the pics with us. Loved them.

regan says:

just beautiful. he is so healthy and darling looking. no curls yet, huh? but i give him a few months….i only have one with curls, i am not even sure where they came from, but i do love them! GOD's choicest blessings on you all as you welcome this newest babe into your bonny glenn.

KimN says:

beautiful….thanks for sharing….I always find myself in awe with my newborns that one minute they are inside and then they are in my arms….and when I look at your little boy and what an armful he already is I find it even more amazing!! Enjoy these moments and listen to your dr……"underdo"

Jennifer says:

I just keep coming back here to see how cute he is (again).

Mary says:

Ha…I logged on to say just what Jennifer said…I have to bookmark this page. It's so wonderful.

Mary Beth P says:

He's beautiful! Congratulations! (How do you have a waist, already? I still don't have one, and my baby's 1!)

Beth says:

Oh, he's beautiful! And I love the photos of the children gathered around. Your sweet Rilla's expression is especially priceless!

Rebecca says:

He is just chubby and scrumptious! All of my babies are big and I just love them that way! Congratulations to all of you!

Tarie says:

He is so cute!!! And you have a very beautiful family. Congratulations, Melissa. :o)

steve says:

yay!!!!!!!!!!!!!!!!!!!!!!!!!!!!!!!!!!!!!!!!!!!!!!!!!!!!!!!!!!!!!!!!!!!!!!!!!!!!!!!!!!!!!!!!!!!

Book Chook says:

It's a lovely feeling to be able to share your family's joy. Thanks for posting pics and making it possible.

Can he read yet?

Elizabeth H. says:

So beautiful! I just love the beaming siblings…

kort says:

what a wonderful homecoming! peace and blessings to you all…

Camille says:

What a beautiful family and you look wonderful. I never looked that good so soon!

Congratulations and blessings to you all.

JoVE says:

Congrats. He looks beautiful.

CJ says:

Congratulations!

BeckyB says:

What a honey!!! Makes me want to have another!! You both look WONDERFUL!

MelanieB says:

Oh what joyful pictures. Such happy big sisters.

Lissa, numbers don't do that big boy justice. Knowing he was nine pounds twelve ounces is one thing, seeing that huge baby in your arms is quite another. He is gorgeous.

And yes the pudding picture is great. Kudos to Scott for getting the shot.

Melissa Wiley says:

Melanie, I know, I think I'm still in shock a little. I look at him and can't BELIEVE he was squished up inside me just a few days ago. It doesn't seem possible.

But now I know why the last couple of weeks were so uncomfortable…my ribs were killing me to the point that I could hardly walk. Or sit. Or lie down. LOL. I was SO lucky my mother was here–I don't know how I'd have gotten through that last week without her.

Amy C. says:

Congratulations! Love the photos, especially the one of you and two sisters looking down on him so adoringly. (Now get Dad to give up the camera and get in on the new baby documentary!)

Many blessings to your lovely family, and happy babymoon!

Tracy says:

Congratulations! He looks gorgeous!

Jeannine says:

Could he be more beautiful?! Could YOU?! Congratulations and many, many blessings. What a gorgeous family.

Isabella says:

Wonderful pictures, and beautiful family! So nice to see your new addition to the family. Thanks for sharing.

Jenny in Ca says:

congratulations, and welcome home!

I love the photos, makes me wish for another boy…

Susan Gaissert says:

Heartfelt congratulations. I'm so glad Wonderboy has a brother now!

Helen (Mary Vitamin) says:

Beautiful pictures Lissa — full of love!
Happy to see you posting again.

Maureen says:

Congrats!! He's beautiful.

Maureen

Jennifer G. Miller says:

So sweet! Love all the beautiful pictures, including mama! Congratulations!