April 16, 2009 @ 12:37 pm | Filed under:
Books
Let me count the books.
After Scott left for the day, I found this on my pillow.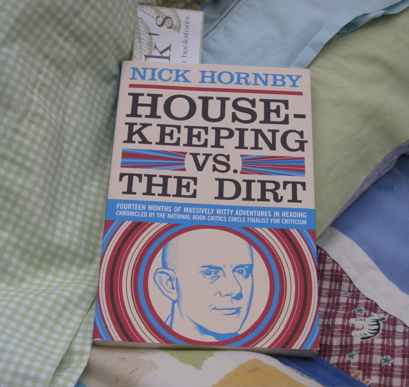 'Cause I'd said I was dying to read it.*
Yup, he's a keeper, all right.
*Updating this with a Q-and-A from the comments, lest all my readers think Scott has lost his mind!
Q: "Was it a hint that the house was messy, was it exactly what you wanted, or was it a way of saying it´s ok honey, I love the house just the way it is?"
A: The answer is B—it was just what I wanted.
The book actually isn't about housekeeping at all; it's a collection of Nick Hornby's "What I read this month" essays from a literary magazine called The Believer. Hornby has published, I think, three volumes of these essays, about a year's worth collected in each book, and this one is the newest one. I recently read his first collection, The Polysyllabic Spree, and I loved it and have been eager to read this new one–which is so new that it isn't in our library system yet. Scott knew all this and treated me to the book, which he secretly bought when he was shopping for Rilla's birthday book the other night.
He went to the Springsteen concert in L.A. last night, first time he's gone without me in three tours, but we didn't think it would be a good idea to bring a 3-month-old along so I passed on this one. After Scott left for L.A. yesterday, I walked into our room and found this little surprise waiting on my pillow. Is he a gem or what? Leaving me some Nick Hornby so I won't be lonely in his absence?
Comments
Sarah Collins Honenberger says:

Found your site through Writer's House in Charlottesville, VA. About keeping husbands and dirt … back in 1998 I wrote an essay on tips for working women, sent it to Oprah in response to her website question from Pearl Cleage's book where the church circle discusses ten things every woman should know how to do. When the Oprah producer called the next morning, I didn't believe it. But, long story short, they filmed me, I didn't get to go to Chicago but … one of my top ten things was don't waste time vacuuming, the dirt comes back anyway and soon enough you will need glasses and won't see it in any case. We're friends by serendipity. And although my kids are grown now, they inform everything I do, every decision I make, and bits and pieces of their humor, wisdom and smarts show up in my writing every day. A writing teacher once comforted me when I was complaining about life's chores getting in the way of my writing. She said, "On the contrary life is what gives you something to write about." Hug those kids.

Dani Joy says:

This post made me laugh. Then I was confused. Why would he leave a book like that? Was it a hint that the house was messy, was it exactly what you wanted, or was it a way of saying it´s ok honey, I love the house just the way it is?

I recomend your books to parents with young girls but do you think my boys might like to read the books? I haven´t thougth they would but I haven´t read them yet either. I think they would be lovely if I were a little girl again. I read all kinds of historical fiction books.

Melissa Wiley says:

Was it a hint that the house was messy, was it exactly what you wanted, or was it a way of saying it´s ok honey, I love the house just the way it is?

The answer is B: it was just what I wanted. 🙂 The book actually isn't about housekeeping at all; it's a collection of Nick Hornby's "What I read this month" essays from a literary magazine called The Believer. Hornby has published, I think, three volumes of these essays, about a year's worth collected in each book, and this one is the newest one. I recently read his first collection, The Polysyllabic Spree, and I loved it and have been eager to read this new one–which is so new that it isn't in our library system yet. Scott knew all this and treated me to the book, which he secretly bought when he was shopping for Rilla's birthday book the other night.

He went to the Springsteen concert in L.A. last night, first time he's gone without me in three tours, but we didn't think it would be a good idea to bring a 3-month-old along so I passed on this one. After Scott left for L.A. yesterday, I walked into our room and found this little surprise waiting on my pillow. He's a sweetheart. 🙂