February 16, 2010 @ 8:55 pm | Filed under:
Television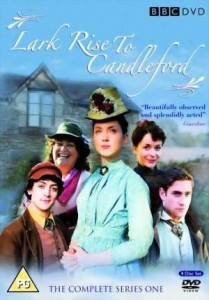 Are any of you watching Lark Rise to Candleford? It's a BBC period drama that airs here on our PBS station. We're about halfway through Season 2; I believe the third season started last month in the UK. It's set in a somewhat vague 1880s-ish time frame, the story of a small farming hamlet (Lark Rise) and the neighboring market town (Candleford). Season One begins with 16-year-old Laura leaving Lark Rise—somewhat reluctantly—to take a job in the Candleford post office, which is owned and run by Laura's mother's cousin, the amiable and efficient Dorcas Lane.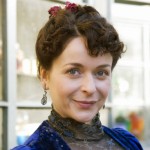 I think it was the glimpse of Dorcas on PBS one night that made us add Season 1 to our Netflix queue; she is played—wonderfully, I have to say, with great nuance—by Julia Sawalha, whom you may remember as the maddeningly flighty Lydia Bennet in the BBC's Pride and Prejudice.  We watched the first season on DVD and then tuned into Season 2 already in progress; I think we came in around episode 5. Annoying, our DVR fizzled out during the recording of episode 7, so we didn't get to see how things played out with Fisher Bloom—not to mention Laura's father's stolen tools, a plot development which made me feel sick to my stomach. Robert Timmins is a stonemason. His tools are his livelihood. I think he's my favorite character—except maybe for Minnie, Dorcas's young, semi-competent, chatterbox maid—so I really hate to see him suffer a blow like that. He's an artist, Robert is.
I never see anyone talking about this show online, and every week I'm all sputtery over various developments and yearning to gab. Are none of you watching?
Queenie! I forgot. Queenie is my favorite character. Absolutely. And not just because she's a beekeeper, though that of course is part of it. But also for her warmth and twinkle, her generosity of spirit, her calm good sense. The way she talks to her bees reminds me so much of Linnets and Valerians.
It was awful to see her so distraught last night over the disappearance of her bees, and (now we enter spoiler territory, so be warned) the memory of her saintly grandmother's dark secret. I thought the bit about the Lark Rise children destroying the Fordlow gardens was a bit of a stretch—even with Twister riling them up, I can't imagine those kids laying waste to food like that. Not when we've seen how lean the pickings can be in Lark Rise at times.
I have no patience for Mr. Dowland's self-indulgent moping. Enough already. I did love his reaction when Minnie dropped in with the flimsy, ad-libbed story that Dorcas wanted to borrow, um, a cigar case. For her cigars! That glimmer of amusement in his face was the first really likable thing about him.
I miss Caroline Arliss. What happened to her and the rest of Alf's family? That must be part of what we missed in the beginning of this season.
Honestly, I could watch this show for the scenery alone. Those lush grain fields, the green hills. Oh my heart.
Comments
Rebecca says:

Oo-ooo – Me!

Actually, I'm waiting for Season 2 to arrive via DVD (was just released today!) so I can watch it all over three nights (staying up much much too late but loving every minute of it).

I loved Season 1… and I skimmed the details above in case there was a spoiler or two in there. Season 2 – oh, I'm so excited.

I'm even tempted to read the book…

I've been recommending the series to anyone I know who has enjoyed the BBC Elizabeth Gaskell (Cranford; Wives & Daughters) or Jane Austen adaptations.

I, too, hope that Caroline Arliss will show up in Season 2. I love Dawn French (Vicar of Dibley) — so vibrant. Great comedienne.

Karen says:

I bought the first season on DVD from Amazon UK. We enjoy it but I have to say I'm glad Caroline Arliss is gone in later seasons (which I haven't seen yet). That woman gets my goat.

Celeste says:

We finished Season 2 via YouTube last month. I enjoyed the series and am looking forward to Season 3, though there were a few things that bug me about the show; the occult practices (seance, tea leaves, etc.) I could do without, for example. The episodic feel of that first season grated on me a tad, but that might be due to my not watching much television–I'm used to films and miniseries. That said, the scenery is gorgeous, the characters are well-acted…they have a lovely ensemble cast, I think.

I love the BBC interconnectedness of it all, as usual: Lydia (Dorcas) and Colonel Forster's young wife (Ruby) of P&P back together, many years later; Martha (Emma) and Miss Brown (Dorcas, again) of Cranford, this time as cousins. Always fun.

By the way–if I remember right, Caroline Arliss' husband had a job opportunity in another town that would keep him home with his family instead of at sea–the pair of them left to establish themselves in a new home before collecting the children. I have to admit that she is not a favorite of mine, though the writers certainly made her more likeable at the end of the season that she was at the beginning.

Elizabeth says:

I love the series!! I don't live very far from where it's filmed–so an added bonus! I always liked the British period dramas–so that's one of the added bonuses of living here now. And yes–much of the country side still looks that lovely!

Did you see Cranford, starring Judi Dench? That is actually filmed in a village where people still live in all the houses-very fun place to visit. (Also within 30 miles of home!)

Kat with a K says:

I'd never heard of this! Just added it to my Netflix queue.

Hannah says:

I think I'll add this to my Netflix queue. Right now we're so glued to the Olympics in the evening that I've actually stopped obsessing about Lost! 🙂 Those Brits sure know how to do period dramas, though.

christie says:

Are you watching this with the girls? My 8 year old liked the Masterpiece Emma so much she's having her Dad read it to her (4 pages at a time!). Would Candleford be appropriate?

Lindsay says:

No television, but I just added this to Netflix! We just finished Emma and Cranford, and I'm looking forward to another! Thanks so much!

Elizabeth@Frabjous Days says:

I'll have to rent this DVD. Sounds good. And I'm tickled about the character called Queenie. Same name as my grandma!

Kathryn says:

Half way through Series 3 over here ;). And I loved the books long before the TV series was thought of. It is so very much my grandparents'and great-grandparents' world, though thoroughly sugar-coated for TV, and getting further and further from the orignal books the longer it runs. We live about 25 miles from the real Lark Rise, a small hamlet called Juniper Hill on the Northamptonshire / Buckinghamshire border. My mother lived for over twenty years in Buckingham, which is the original Candleford. I believe there is a Flora Thompson exhibit in the museum there (which, incidentally, has to be one of the best looking former prisons around: http://englishbuildings.blogspot.com/2008/05/old-gaol-buckingham.html).

To whet your appetite a little … Minnie's character and role is being developed in the 3rd series; Laura has a new love interest; and there is quite a storyline for Pearl and Ruby. No return for Caroline Arliss though, at least so far.

Kathryn says:

Oops. Bother. You need to take the bracket off the end of that link.

Lindsay says:

Lucky lady! This isn't on our local PBS station. I do have it on order from interlibrary loan. Looking forward to it!

Lisa says:

Normally I eat anything like this up and watch and re-watch. Could. Not. Get. Into. This. Series……I tried. and Tried. Now we have no tv so I'm out of luck. Maybe I'll get it a shot on dvd!

Lesley Austin says:

Oh Melissa! I watched the first series on dvd just a few weeks ago. It was my escape when things were hard and I would watch upstairs in bed on my laptop and get totally absorbed. It almost lost me at one point, a few episodes in, when the character of Pearl and Ruby's father appeared. I feared this was going to be like a Dickens story where the odd characters overwhelm the relationships and subtler story elements….but then it tipped past that into goodness and I immersed myself in its golden, vintage beauty.

I am just waiting for the second season to arrive in my mailbox via Netflix. I will be sure to post about sometime on my blog, for as you said, I haven't heard much online discussion of it and it is so lovely in so many ways.

Beck says:

I love this show and watch it nearly every week – but bizarrely enough, I had NOT realized that Dorcas is played by Julia Sawalha! And yet now that you point it out, it's OBVIOUS. How did I miss that?

Melissa Wiley says:

Kathryn, how utterly cool that you live near the real Lark Rise. As if living in the Borrowers' village weren't cool enough!

Caroline Arliss drove me crazy during the first few episodes, but then I realized I was really relishing the scenes she appeared in, even though her antics made me want to shake her. 😉 I'm sorry to hear she has not reappeared in Season 3 (yet?). Though it seems completely consistent with her character to ditch the children and go off with hubby to a new town. Oh, Caroline.

On the Season 1 DVD extras, the actress who plays Caroline (Dawn French) mentioned that the main reason she took the job was to work with the actress playing Queenie.

Lisa, does this mean we've found something we *don't* agree on? LOL, a first! Our tastes always seem to align. 😉

I will say, though, it took a couple of episodes to grow on me—that is, I was interested in the storylines but not really attached to the characters until a few eps in. I really enjoy the dynamic between Robert and Emma Timmins.

Kathryn says:

Lissa, we are also within half an hour of the locations of Mistress Masham's Repose (Stowe Gardens), Rumer Godden's Story of Holly and Ivy, and Roald Dahl's Matilda (both Aylesbury). There may be more, but those are the ones I can think of ;). Push it up to an hour and you get Oxford and London, so zillions of book locations.

I forgot I put Lark Rise into the literary tour I did on my blog years ago. Here is the post: http://ukbookworm.blogspot.com/2006/04/literary-tour-day-16.html

Rachael in Australia says:

I recently watched the first series, late at night, in bed, with my laptop. I loved it but not at first. I found it a little hard to get into. Probably because I love the books so much and the series has characters of the same name but there the similarity ends. Once I was able to separate books and tv show in my mind, I really enjoyed watching the series.

I also love Julia Sawalha's performance. I have seen her in many things over the years and even remember her when she was a teenager (and I was a teenager!) in a high school comedy/drama about running a school newspaper (Was it called Press Gang?) She's a wonderful performer.

I skim read your post in case I read things I shouldn't concerning series 2. I am saving up to buy it….$60. It hasn't aired here in Australia.

Jillaine Rabine says:

I live in Washington, DC and my husband and I are hooked on Larkrise to Candelford. We have already gone through seasons 1 and 2 and cannot wait for season 3 to come out on DVD.

Minnie is my favorite character. Love her to pieces! Queenie is my next favorite.

molly says:

What happened to Alf's girlfriend from last season, Nan??

Melissa Wiley says:

I was wondering that myself. She seems to have been written out between seasons two and three. Which is strange, considering how the season two finale devoted so much time to her—wasn't that the episode that culminated in Emma's speech about Nan not believing she deserved a good guy like Alf?

Cathy says:

"Larkrise to Candleford". I LOVE this TV series. I happened on it one Sat. nite waiting for "As Time Goes By"and "Doc Martin" to come on and "I was hooked". All the players are so rich in character. And Minnie! Oh my. She grew on me quickly.If ever I travel "across the pond" from Texas, I want to make the pilgrimage to the area of filming.

Karin says:

I've also greatly enjoyed Lark Rise, and am anxiously awaiting season 3 dvd to be available to us in the States. I think there are a number of angles that need to be wrapped up so I sure hope season 4 does occur. I contacted Bill Gallagher (the main writer) via email in March to say how much I have loved the show, writing, characters, acting, etc. and he responded: "We are currently beginning work on Series IV and we will be filming in second half of this year." I was glad to hear it & hope we get 12 eps (not just 6)! I read a comment by a fan on the BBC site for the show that Julia has commented on another fan board-curious to know which ones as I'd be interested in reading her viewpoints.

Tangela from Ohio says:

My family and I very much enjoy the show. We can't wait from episode to episode. We do wonder what happened to Alf's girl, Nan. But we enjoy it so much that I'm looking into reading the book. Never heard of it til the show. I've enjoyed everyone's thoughts. We have to many favorite characters to list. Emma and Robert remind me of my husband and myself. Glad to here they plan to continue the show. Great for children to watch.

Carolyn Pierce says:

Wow!!! Was I lucky to find this while googling to see what I can find out about Season 3. We are just into it on Saturday nights on PBS here in Buffalo, NY. something seems to be missing for me with Season 3… there seems to be quite an emphasis on having a musical number in each episode. Dorcas seems to be less important. I miss the Squire and that tension between them. I think Sidney was probably o.k. to add to the series, but probably not so necessary. Altho I don't like Season 3 so much so far, I don't think it has jumped the shark yet. What happened to NAN? What a mistake to drop her. and, hopefully. Mr. Dowland will come back (after all he is Sidney's dad). Greeting to all the Lark Rise fans. Count me in!!!

Geri Coulter says:

I AM ADDICTED TO THIS SERIES! I WAIT FOR IT ALL WEEK. I MISSED AN EPISODE O 9-14. WHERE CAN I WATCH IT? TODAYS WAS A REPEAT BUT I WATCHED IT AGAIN.

Lux says:

I love this series, I just finished season 3 and I really cannot wait for more, I really hope they continue on with it. You can watch the whole series on youtube. It is airing on pbs where I am on Saturdays, but it is only on the 4th episode, I just could not help myself. I will be re-watching it on the weekends however. I love Dawn French by the way, I wish they would show French & Saunders in the U.S., I have the DVD's but Americans just don't know how funny they are. Hope she is back for the 4th season. Queenie is my favorite though.

Maren says:

If you can believe it, my sons and I watch one episode a night together!
This is such a well written and acted production. I am so glad to read others thoughts too.
I make chocolates for a living and we tend to label the characters to chocolate flavor. Dorcus to me is a hazelnut cream. Queenie honeycomb dipped in dark chocolate. Twister mixed fruit in milk chocolate with a white chocolate drape. Laura is a dark milk chocolate drop. Granted each episode may alter the flavors a bit.
Can hardly wait to start season 3 🙂

Julie in australia says:

Picked up series 1 in the Christmas sales last year and it sat on the shelf till our wettest winter in 10 years settled in. Now several households have been glued to the DVDs and different ones acquired up to Series 3. Now we await Series 4 – and hope that the story line is broad enough to go on much further. Wonderful characters and acting, settings and minute details of life presented in beautiful countryside settings. All at a time when so many were being shipped out to the antipodes. Best series yet.

Alison says:

I LOVE this show—
Why the heck doesn't Netflix have season 3?
It's really making me MAD!

Crystal says:

I recently discovered this show and am getting the CD's from Netflix. I was googling it to get more info on the characters, and found your blog. I am looking forward to checking it out. 🙂

Marge says:

I am a fan of Lark Rise to Candleford. I really love that show…I am very happy to hear there will be a season 4….I am going to buy the book, too….There are so many British comedies that are great…I am from the USA and your country side is just beautiful in this TV series….I also like "Doc Martin"….The scenery in that is breathtaking….Thank you PBS for having this series on…..

believer936 says:

This is my favorite alltime BBC series. I hope season 3 comes to Netflix soon.

Yvonne says:

I saw my first episode of Candleford today on PBS and was enchanted. I want to see all I have missed and continue seeing what is to come.
The TIME of the story, pardon the pun, was chisled around the clockface by Mr. Timmons as the clock was readied for its first presentation: 1895.

Researching how I might find more Candleford episodes led me to this website.

Micki says:

Oh, how I adore the Lark Rise to Candleford series. I watched the first two seasons on Netflix and go the rest on You Tube….through Season 4, Episode 5. I have been going crazy trying to find the rest of Season 4. This series is so amazing. Second only to the series Road to Avonlea. I am addicted and am dreading the end of Lark Rise. I want it to go on for years and years.

Deborah K. Engelke says:

I, too, am a fan of Lark Rise to Candleford. I am watching by renting through Netflix, as we don't get this on our local PBS stations. And, yes, I love it, too, for many of the same reasons other posters have emailed you with. I love Queenie, my favorite, too, although my one weakness might be Dorcas (!).
;0)

Thank you for posting your feelings on this. I need to re-rent them, I think, because last night was the only time I hit the 'extras,' and this was after season 3 final dvd. I got to see Flora's real Lark Rise documentary from 1975.

Debbie
Oswego, NY

Laura Rigby says:

I am looking for an answer. The man who owned the hotel andwas in love with Dorcas . . . when he went after his son his horse threw him and he was in the hospital. Dorcas then went to get Sidney "Little Man" and was taking care of him. Then she has him call her "Mom" and says he is her adopted son. What happened to his father? The man who owned the hotel?

Thanks!

Melissa Wiley says:

While the father was recovering from the accident, Sidney became very attached to Dorcas and didn't want to leave her. Dowland (the father) was upset by Sidney's rebuffs and at first blamed Dorcas for trying to take the boy away from him. Eventually, though, he realized he'd depended on Queenie as a boy when his own mother died, and he decides it's best to grant Sidney's wish to remain with Dorcas. Dowland leaves Candleford—heartbroken—in order to make the transition less painful. If I'm remembering correctly! 🙂

Stacey says:

I couldn't agree more! WHERE IS THE BUZZ!!!! I am currently in the middle of season 2 and LOVE IT!