July 14, 2010 @ 12:50 pm | Filed under:
Comics
San Diego Comic-Con is next week. Thought I'd warm up with a roundup of previous SDCC posts.
SDCC 2009:
Thursday. Photos, "female power icon" panel, cute father-son moment.
Friday. Photos, Mouse Guard panel.
Saturday. Notes on a variety of topics, including Scott's karaoke performance.
Sunday. More photos.
Graphic novels for kids panel #1. Gene Yang, Derek Kirk Kim, the fabulous Jenni Holm, Eric Wright, Lewis Trondheim, Jarrett J. Krosoczka, Chris Schweizer.
Graphic novels for kids panel #2. I had to slip out early so not many notes, just names.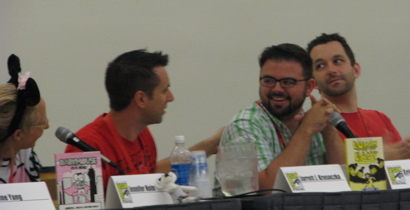 SDCC 2008:
One big photolicious recap post.
Plus a story about that bag I bought.