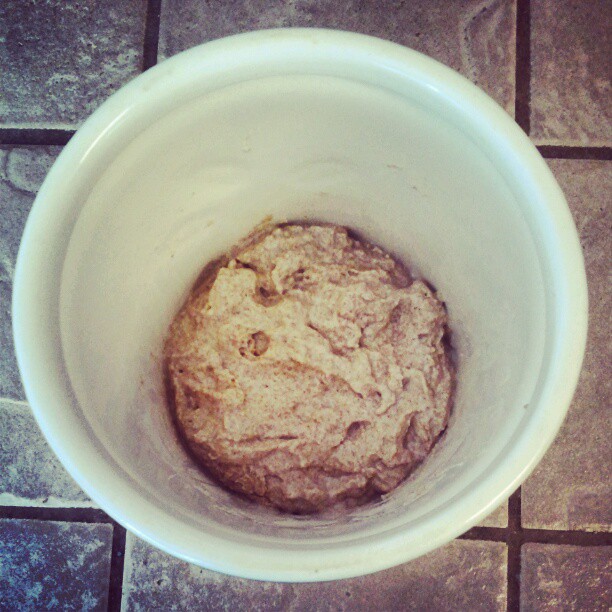 Been a while since my last go-round. This photo is day one, hour one. One cup whole wheat flour, half cup distilled water, per the instructions at the King Arthur Flour site (and lots of other places). However, after revisiting my old favorite sourdough site, Northwest Sourdough, I've decided to add a bit of pineapple juice. The acid in the juice (apple cider also works) encourages the growth of the right microorganisms and discourages the nasty ones.
Last time I tried starter from scratch, it bubbled along nicely at first and then fizzled on me. Before that, I've had great success with starters purchased from Northwest Sourdough and a King Arthur one given to me for Christmas by a friend (along with my beloved blue-and-white crock).
In between bouts of sourdough-ing, I had a good long run of regular breadmaking using the Artisan Bread in Five Minutes a Day method. (Many posts and pictures here.) We fell out of the habit when summer rolled around and none of us could bear the thought of turning on the stove. But the ABi5 recipes worked wonderfully for us, and it's certainly a more economical path than storebought bread. I might resume the practice after Thanksgiving; right now the fridge is too full.
Lookie here, my old (way old) bread blog is still kicking around! I really should import those posts to this site one of these days.
Comments