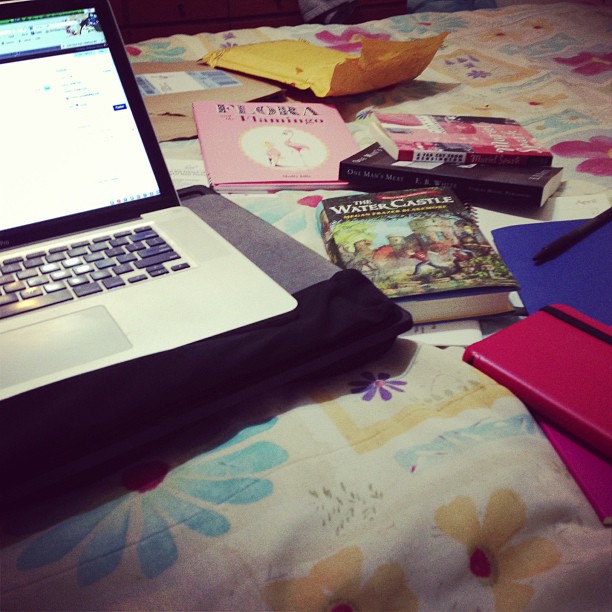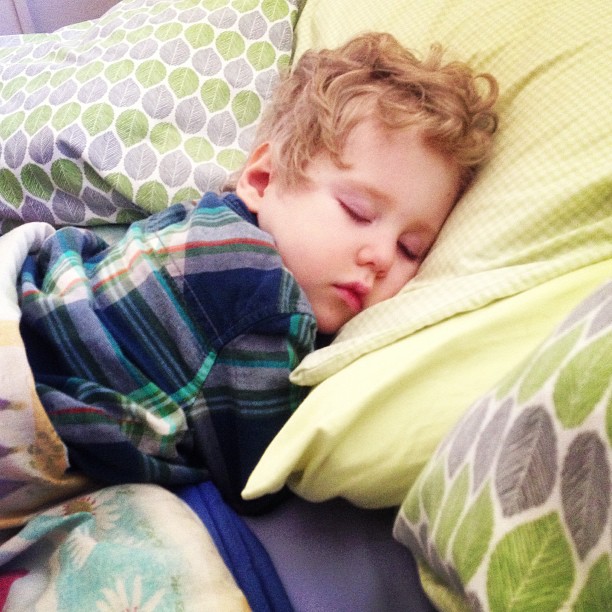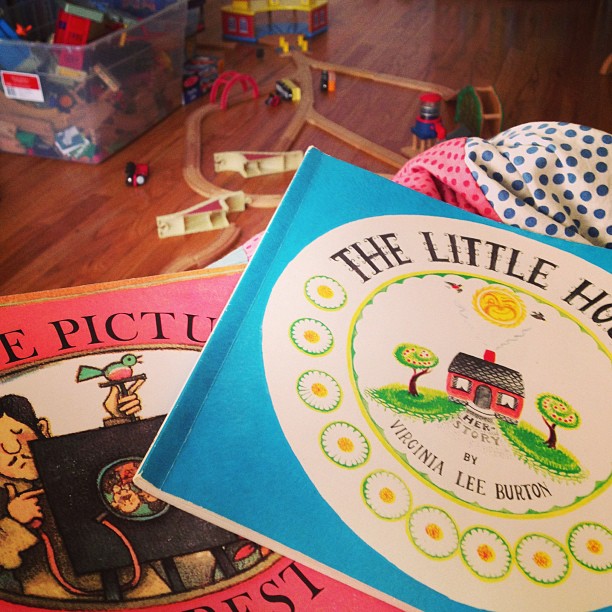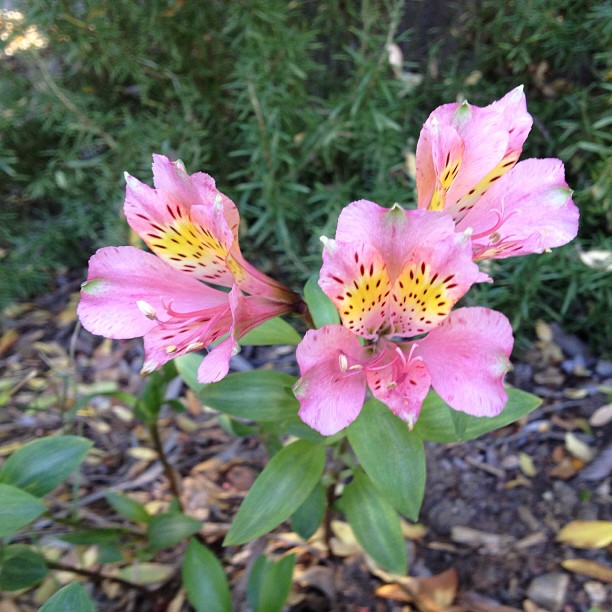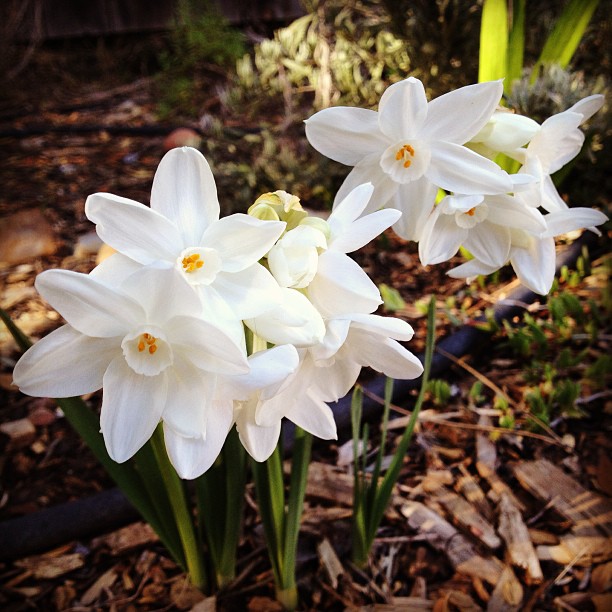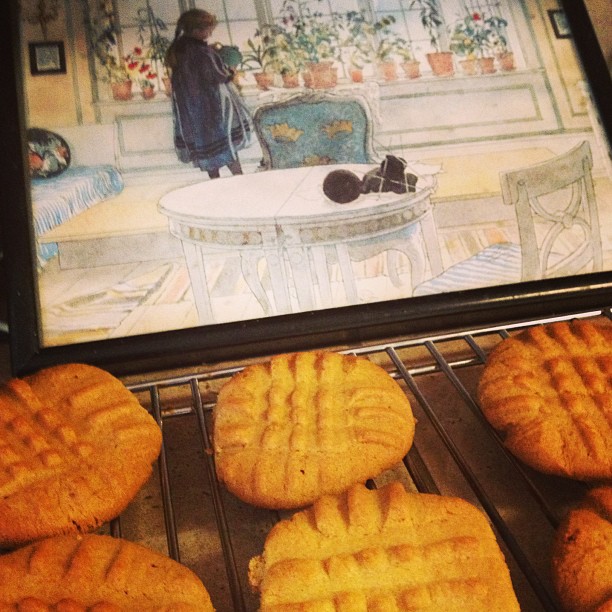 Some tempting new review copies arrived: The Water Castle, a middle-grade by Megan Frazer Blakemore, and Flora and the Flamingo by Molly Idle—gorgeous art on that one, reminiscent of the German illustrator Nikolaus Heidelbach, whose name I was recently wracking my brain to recall.
Simple Pictures Are Best (illustrated by Tomie de Paola) is a book I remember giggling over with my little sisters long ago. Now I get to hear my kids giggle over it. And The Little House remains at the tippy-top of Huck's best-loved books list.
Rose likes baking. I like cookies. We're a good match.
This time last year I was heading into a garden-lit binge: that wonderful collection of letters between Katharine S. White and Elizabeth Lawrence, which led to more books (rereads and first-time reads) by each, and some new bulbs in my garden. This year, oh joy! Netgalley delivered to my Kindle a new collection of Eudora Welty's gardening letters, Tell About Night Flowers, forthcoming from University of Mississippi Press. This is the sort of thing that makes me giddy. This publisher is also responsible for the fascinating (so far; I'm not finished) book Crockett Johnson and Ruth Krauss: How an Unlikely Couple Found Love, Dodged the FBI, and Transformed Children's Literature. I have many treasured books written and/or illustrated by these two, and until this book I had no idea they were a couple. I love literary couples.
What are you reading right now?
Comments
Dianna says:

I am looking forward to reading Flora and the Flamingo to my three-year-old daughter, who automatically approves of any books that are pink.

I'm working on the What Katy Did books, which I am enjoying so much that I regret not having read them as a child.

Melissa Wiley says:

Dianna, have you read Vampirina Ballerina? Loads of pink, lots of fun.

Melanie B says:

I don't think I've done a picture only post ever in the eight years I've been blogging. There have to be at least some words. Especially when there are pictures of books!

Anthony's current favorites are Goodnight, Goodnight Construction Site, Otis, and Jan Brett's Twelve Days of Christmas. Sophie's favorite is a book about a spider called Sophie's Masterpiece. Ben must be reading books with Grandma and Daddy but with me he just seems to want to cuddle. I can't recall a thing I've read to him in the past few days.

With Bella I'm reading By the Shores of Silver Lake, Five Little Peppers, Milly-Molly-Mandy, Cinderella illustrated by Arthur Rackham, Betsy Tacy and Tib Go over the Big Hill– which got too scary when they crashed the party so we had to stop reading it. Also a book about Padre Pio and one about Blessed Pier Giorgio. And occasional chapters of The Story of the World.

By myself I'm reading The Baroque Cycle. I'm within a few pages of finishing Book 2, The Confusion. On to Book 3, The System of the World.

sarah says:

I absolutely must read the Johnson and Kraus book. We named two hamsters after Harold and the Purple Crayon, and all of my girls have loved reading his adventures. Any idea why this book is so expensive? $60, $40, and $20 for HB, PB, and Kindle. Ouch! Is it considered to be a textbook?

Huck is just darling. I love sleeping babes.

Fanny Harville says:

Beautiful pictures! N. is reading lots of Tintin; I'm reading Secret Water to him; and I just began The Children's Book.

Irene says:

I just read last night in my William and Mary Alumni magazine that Vampirina Ballerina is authored by a fellow alumna! I remembered you mentioning it. I'll have to take a look at it soon.

Dianna says:

Thank you for the recommendation. I will add Vampirina Ballerina to our reading list.

selvi says:

Highlights at the moment:

The Bear that Shared
The Children of Noisy Village

Consuming Kids
Cinderella Ate My Daughter

mamacrow says:

Oh Dianna, I'm so envious of you, reading the Katy Did books for the first time! They're my absolute faves, I re-read them almost continuously! My favourite is What Katy Did Next, closely followed by Clover. Enjoy!

My challenge for this year is to read at least one book that's new to me each month, this month I've so far managed two – both from the Railway Detective series by Edward Marston. Now I'm re-reading The Mystery of the Blue Train by Agatha Christie (I'm a Christie fanatic), then I'm going to re-read A Christmas Carol because I just fancy it, then it'll be a new-to-me book again!

Current story time favourites include Bread & Jam for Frances, the Blackberry farm books, the Mr Men books, Burglar Bill (Allun & Janet Ahlberg). Roo's on a Darren Shan kick, and Saurus has just completed American Gods by Neil Gaiman. Wig's deep in Dragon Lance still.

Em (Love YA Lit) says:

Ahhh, Simple Pictures Are Best. I love Tomie de Paola.

Karoline says:

I am so excited to check out the Crockett Johnson/Ruth Krauss book! I had no idea they were a couple either. Can you just picture what their dinner conversations must have been like? The book sounds so interesting. Thanks for the recommendation!

Melissa Wiley says:

@Sarah: It's published by a university press, so I think it falls in the scholarly-book category—not a textbook, but intended for academics, perhaps? It is pricey, indeed. But fascinating so far… (library?)