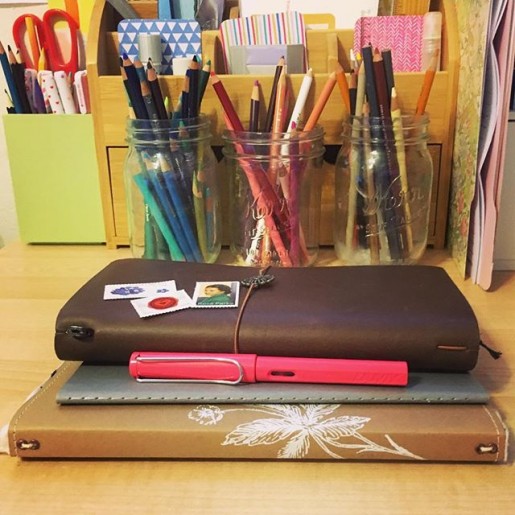 My everyday favorites. After a year of experimenting, I've got my system figured out. Top to bottom:
• Midori Travelers Notebook for my monthly calendar, weekly journal, and a scribble notebook;
• Moleskine Cahier for daily to-lists (bullet journal);
• Wild Simplicity Daybook for homeschooling notes and records (including our weekly Shakespeare lines—we learn monologues two lines at a time); and
• the Lamy Safari fountain pen my family gave me for my birthday. (LOVE.) (That's an Amazon affiliate link but if you're buying pens in the U.S., you should order from the nice people at Goulet Pen Company. Their instructional videos are invaluable, their customer service is top notch, and they offer inexpensive ink samples so you can try out all sorts of gorgeous colors. And that is not an affiliate link. I'm just a happy customer.)
I still keep the family appointments on Google Calendar, but I enjoy writing everything out in the TN monthly calendar (#017) as well. I use the horizontal weekly TN insert (#019) for chronicling the day after it happens—just a few notes about highlights. For the last several months I've used a blank TN insert (#003) for my bullet journal but came to realize I need a separate space for scrawling, sketching, doodling, working things out on paper. If I do that in the bullet, things get messy. WAY messy. So I've gone back to my old (cheaper) Moleskine grids for task lists.
The Midori travels with me everywhere; the bullet journal lives on my desk where I do most of my work; and the Daybook has a home in a basket by my rocking chair in the living room.
I'm laughing at how complicated this must seem if you aren't a pen-and-paper fanatic…but I juggle a lot of roles (and kids) and I find having different paper spaces helps me keep things straight.
More nitty gritty:
I also have a kraft folder (#020) in my Midori to tuck ephemera and snail-mail supplies into. Since I started carrying notecards and stamps around, I've gotten much more prompt with my thank-you notes.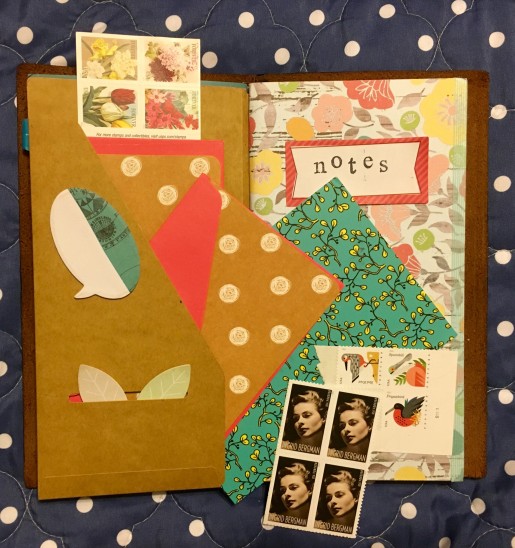 • I love the feel of Prismacolor colored pencils on the paper Lesley Austin uses in the Wild Simplicity Daybook. I'm sure I've raved about this before—the lovely creamy pencil on this recycled paper with just the right amount of tooth.
• Prismacolor pencils also delight me in the bullet journal: I like 'em for filling in my checkboxes.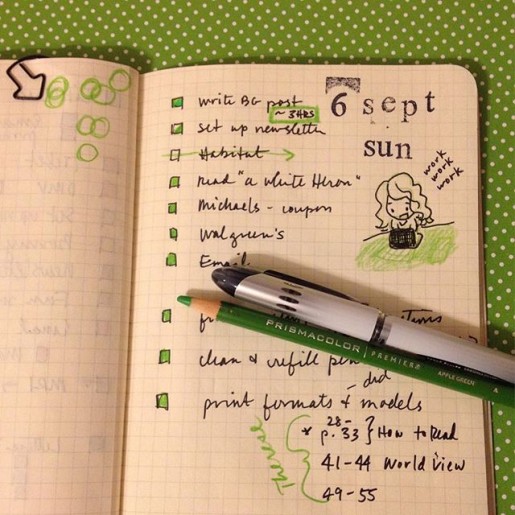 • This pic, which I've shared here before, shows my favorite way to organize a task list: to-do items on the right, and the verso is for related notes and numbers. I also keep a running "Nag List" on a sticky note that travels from spread to spread. It's for important tasks that I might not get done today but I gotta deal with soon—like finishing my taxes or booking a doctor appointment. I consult it each evening when making out my bullet list for the next day.
• Sometimes I'll tuck another insert into the Midori to be used for a specific purpose. For example, I keep a log of incoming and outgoing snail mail. I don't like a superfat Midori, though, so more often that insert lives in my stationery pouch.
• As I mentioned, I do a lot of casual sketching in my blank Midori insert. I find I'm often more comfortable there than in my proper sketchbook, because it feels more casual. But I do have a couple of sketchbooks going and I try to work in at least one of them daily. One is a spiral-bound 7×10 Canson Mixed Media pad, which gets lukewarm reviews from real artists but I quite like its toothy paper—not to mention its price point when Michael's has a good sale + coupon combo. You have to watch for it, but now and then they'll give you a 20% off including sale items coupon during a buy-one-get-one-free sketchbook sale. My other sketchbook is a Moleskine Art Plus, and it's…okay? I love its size and shape (fits nicely in my bag), but the paper is too smooth for my liking. I much prefer the feel of Moleskine's watercolor sketchbook—a lovely texture to that paper. But so far I've mostly just used that for color charts.
• For sketching pens, I like Sakura Pigma Microns or my Pilot Metropolitan fountain pen (check out all the groovy colors at Goulet Pens) with Platinum Carbon ink, which is waterproof so it plays nice under watercolors. However, lately I've come to realize that what I enjoy most of all is sketching in pencil. I love the look of  black or brown ink drawings, and most of the sketchbook artists I admire work directly in ink, but I really love the way a pencil feels on the paper. I keep hitting that point over and over, don't I—the tactile experience matters more to me than how it looks.
Ha, this got long! Would you believe it was just going to be a quick copy-paste of something I tossed on Instagram today?