August 10, 2018 @ 8:38 pm | Filed under:
Books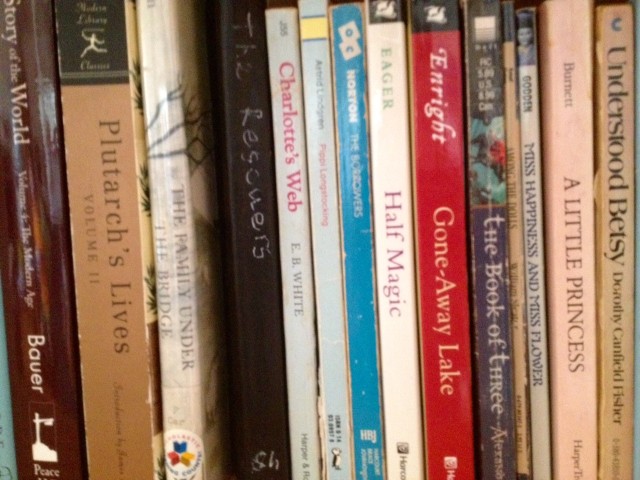 Here's the sequence: I'm lying on the bed reading the opening chapter of a library book on my phone. I don't know why I'm doing this: I'm several chapters into Deep Work, about which I've just talked Scott's ear off for an hour or more during dinner and, afterward, our walk; and I've got another Mary Stewart novel on the Kindle, which I know I'll find totally absorbing as soon as I settle into it properly. And here beside me on the bed: A Tale of Time City and Elizabeth and Her German Garden, both of which I read, oh golly, back in the '90s I guess it would have been. (Or more precisely, Time City was read to me by Scott, one of the books we enjoyed aloud together when Jane was a newborn. I nursed, he read.) I grabbed them on my way into the room, for no particular reason. I'm hungry for something, pacing a mental library like a caged tiger, wanting a contrast to the sobering, change-demanding Deep Work.
And so here I am ignoring the books already in progress or gathered on my way to this quiet corner. I got up at six this morning and was in my chair, writing, by 6:10. I haven't stopped since, unless the walk counts as down time. (It does.) Now the rest of the family is watching Superman and I have an hour free, an hour to spend reading. I ache to read. I think about it all day long: how I can't wait until evening is here and I can read.
But then I don't. I work on tomorrow's NYT crossword puzzle, which hits my phone at 7pm. Get about halfway through before flicking away. Instagram, but only for a moment. I want to read. Why am I not reading?
I remember that a Penelope Lively book I'd requested hit my Overdrive account today. I tap open the Libby app (though I'm not clear on why I'm now using Libby for Overdrive; the library website nudged me in that direction but didn't explain why) and there it is: Dancing Fish and Ammonites: A Memoir. I'm going to relish it; this I know from the cover, the brief description. Below this new arrival, there's the audiobook of The Chilbury Ladies' Choir, a big chunk of which I listened to last Sunday while doing some handwork—and then in the rush of the work-week, forgot all about. I was enjoying it quite a lot, and the audio version is wonderful: a delicious array of voices.
Below that, the Mary Poppins audiobook—that's my next Brave Writer Arrow title, I just turned in Redwall today, and in late afternoon I decided to get a jump on this next assignment. I looked all over the house for our copy of Poppins; I know it's here somewhere; it's nowhere to be seen. Thus the audio, which I'd downloaded last week in anticipation, and spent some time with before dinner this evening. This is suddenly adding up to be a lot of books in progress (let's not mention The Penderwicks on Gardam Street, which I'm reading to the kids but didn't today). And below Mary Poppins on the Libby screen, yet another book I put on hold (not audio this time)—last weekend, I think, when my friend Kelly Ramsdell mentioned it on Instagram? Ursula K. Le Guin's No Time to Spare. The title terrifies me. It sounds like more Deep Work. I scroll back up and tap open the Penelope Lively.
Oh dear, the Preface, I'm hooked already, I genuinely want to read this. By page two, I want to read it on paper. This keeps happening lately—is it a delayed reaction to purging our shelves of (sob) hundreds, really I think it might have been thousands, of books before the move last summer? We couldn't afford to move them—you know how it is with books—and I'm sure there are still a thousand left on my shelves, here in Portland, it's not like I'm deprived…but I miss the abandoned ones. I remember particular volumes and where they lived on the shelves. I can't think about it too hard. And I'm not buying books at the moment but I keep wanting to. I want this one, this Dancing Fish and hello, you had me at Ammonites to hold in my hand, to mark up with underlines and notes. Earlier today I was pining for a hard copy of Deep Work—again the urge to scrawl in the margins, to make satisfying little checkmarks next to bits I like.
Penelope Lively ends her preface with this:
"…most of us end up with an identifying cargo—that painting, this vase, those titles on the shelf. I can give eloquence to mine—I know what they are saying. Not so much detachment here; more, a flicker of memoir proper—a voyage around the eighty years by way of two ammonites, a pair of American ducks, leaping fish…And a raft of books."
Oh Penelope, what are you doing to me?
I flick to chapter one but my eyes have left the screen; I'm staring at the nearest shelf and thinking, suddenly, that what I ought to do is forget about all the books I don't have on hand and just—oh it's a ludicrous thought, I know that even before the thought completes—read my way back through my own shelves. Every book, one after another, in the order in which I find them on the shelf: a sort of Julie-and-Julia project, aspic and all.
Ridiculous, I know. But the idea tickles my fancy and I go to the bookcase nearest the bed, just to see. Top left corner, the obvious place to start. Oh but I can't start there—it's the Norton Anthologies, the five we kept for homeschooling purposes. You can't start with Norton Anthologies! Can you?
Next in line: The Lord of the Rings. Which, you know, you don't have to twist my arm to get me to fall into those volumes…but it is wise? How many dozens of times have I read them!
(The Norton Anthology of Women's Literature is whispering to me. How long is it since I've read The Awakening? The Bluest Eye?)
The rest of that shelf is old Greensboro Reviews—I was poetry editor in the early 90s—and some back issues of Flow Magazine. This will never do. I huff impatiently and turn away from this bookcase, which is laughable, since shelves four and five are where I've been stashing books I own but haven't read yet and really want to. Look, I'm tired, I worked really hard today, I'm perhaps a bit irrational. There are two tall, crammed bookcases on the next wall. Top left corner: some picture books, I can skip those (or can I? what rules do I want to invent for this game I know I'm not actually going to play?); what's the first novel-length book on the shelf?
Lloyd Alexander's Time Cat. Er, I'm not in the mood. The Rhetoric and the Poetics of Aristotle, hahahahaha. Next. Papa's Daughter by Thyra Ferré Bjorn, read half to tatters before I turned eighteen, and perhaps only once since. If it were Papa's Wife I might have succumbed—the Lucia crown; the lutefisk and the midnight sun!—but Papa's Daughter, eh, I feel impatient with Button's moods already. Oh here's The Sherwood Ring, lying sideways because I pulled it out two weeks ago for a juicy reread…and then didn't. I stand there for a moment, falling into page one, this is perfect, it's just what I was looking for to counterbalance Deep Work. (Forgetting again that I already have that counterbalance with the Mary Stewart novel I started the other night, which one is it this time? Nine Coaches Waiting, that's right.) (Nobody mention the subtitle of Deep Work: Rules for Focused Success in a Distracted World. Oh, that's rich.)
I abandon Sherwood Ring, too, and wander to the computer to chronicle this foolish indecision, this half hour I could have spent, you know, READING. I've crammed all the books back on the shelf. It's 9:30, which is when I watch TV.