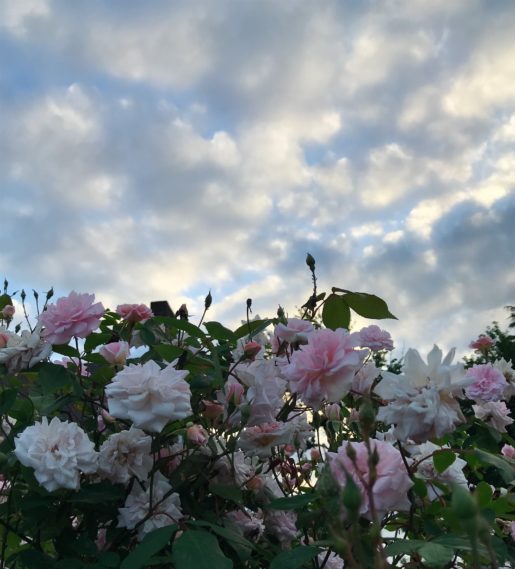 I'm heading to Cincinnati in a couple of days for the Brave Writer staff retreat. Looking forward to seeing some close friends! Staggering to realize I've been pals with some of these homeschooling-mom-Brave-Writer-coaches for (gulp) upwards of twenty years now. These are friendships that have traveled from AOL boards to Yahoogroups to homeschooling discussion boards to blogs to social media and beyond. However screwy the internet may be, it's given me some incredible friends.
We slid into full-on summer mode (the mellowest of low tides) this past week. School's out for my—gulp—rising sophomore (Wonderboy). Beanie's graduating from homeschooling! She and Rose just finished an oceanography class and she's got her application in with the local stagehands' union. Rose is taking one summer course, a welcome respite from the full courseload she's been carrying. Jane, far down the coast in California, will finish her Americorps job in late summer and then she'll move to Portland too. Yay!
What this means, of course, is that I'm doing to only two kids to homeschool! Wasn't it just five minutes ago I had a toddler for each arm?
Comments
Penny says:

I'm still waiting for summer mode it hit. It's a state of mind and I'm not quite there yet.

Congrats to Beanie – no doubt she will make her mark in whatever world she enters, I wish her (and all of you) joy in every possible way. Exciting times.

That's great about Jane! Yippee!

Have fun at the retreat – what an awesome thing – my girls have worked with BW for years, such a great (as in awesome and amazing and thank God for them) group. xo

Monica says:

I am just an hour and a half from Cincinnati. If you have some free time, I would love to meet you in real life.

Penelope says:

The more years pass, the faster time spins away … I swear it was just yesterday, or last week at the most, that I was sitting in the glider, tandem nursing an infant and a toddler, and there wasn't even a computer in the house ….

I hope you have a marvelous retreat 🙂

Susanne Barrett says:

Yes, I am still adjusting to being DONE with homeschooling although it's been a year since B graduated. 21 years…and now to be done…I still haven't wrapped my mind around it completely.

But at least I get to continue homeschooling through Brave Writer. I am sooooo looking forward to seeing you at last in Cincinnati!!

Take care, and see you in a couple of days!!

Warmly,
Susanne 🙂

Melissa Wiley says:

Aw, Monica, I really wish I could! They've got us booked pretty tightly for this retreat. I arrive early tomorrow morning (taking the redeye) but will need to get a nap before the retreat begins.

Any chance you're attending the Brave Learner Retreat in July? I'll be back for that!