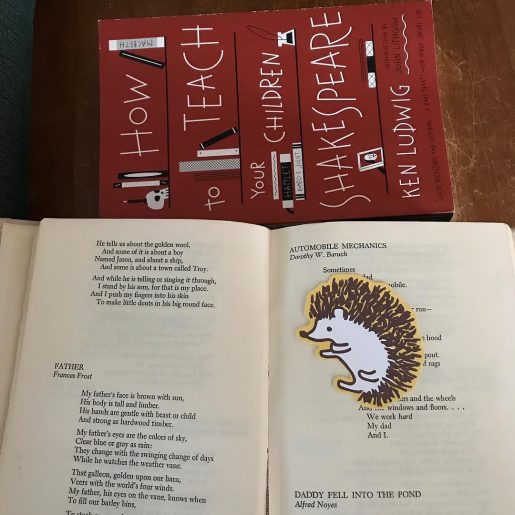 HMMM, I just realized my Diigo sidebar feed hasn't been updating. If you like to check in on my Caught My Eye section, I've fixed the problem now. You especially shouldn't miss Gabrielle Calvocoressi's gorgeous and devastating poem, "The Sun Got All Over Everything."
"…which seems like something I'd make up in a poem
except this time I actually did it.
I wrote: Grieve. Because we're all so busy
aren't we? And so broke."
Lately it seems like poetry is the one constant in my day. (Well, and nail-biting.) We slid back into high tide about a week ago—albeit a choppy one, since I have to slip away for an hour in the middle of every morning to lie on a table that looks like something out of the set of 2001: A Space Odyssey—and what fits best into the allotted space are poems. Giddy over the thought of a Real Autumn, I turned to the "almanac" section of Favorite Poems Old and New and am working my way through all the seasonally appropriate verses. And then I'm reading "Rime of the Ancient Mariner" a section at a time—I can't remember what prompted me to reach for it last week, but I'm glad I did because it's been a big hit. You know it warms the cockles of this mama's heart to hear her young children actually pleading for me to keep going, just a little more. I mean, of course they love it, it's a good old-fashioned ghost story. Huck has joined the ranks of those tormented by the question of why the Old Mariner shot the Albatross. Why?
Side note: I had to chuckle over this stanza:
He holds him with his glittering eye— 

The Wedding-Guest stood still, 

And listens like a three years' child: 

The Mariner hath his will. 
I know Coleridge had a pretty good handle on childhood—"Frost at Midnight" is in my top five favorite poems—but "listens like a three years' child"? You mean the Wedding-Guest is wiggling and thumping his heels on the floor and interjecting questions into the tale every four seconds?
***
Thank so you much to all of you who have subscribed to my Patreon! I'm two people shy of 50 patrons, which is pretty darned exciting. I'm starting slowly with the special subscriber-only posts (trying to be sensible until radiation fatigue is over), but a new dispatch went out this afternoon. A monthly contribution of $1 or more gets you access to the private patron feed.