March 17, 2009 @ 12:28 pm | Filed under:
Handcrafts
I'm in a little online quilting bee, and this month's designer sent us a gorgeous batik vine print and the suggestion that our blocks should fit a nature study theme: things you might see on a nature hike. Too fun!
I saw this freezer-paper foundation piecing tutorial at Twiddletails and knew I had to give it a try. The tree shapes in the tutorial are perfect for Theresa's theme. I am a total novice at this, but I gave it a try yesterday and I was tickled by the results, imperfect though they be. (I recklessly made alterations in the tutorial's pattern, which would have been no problem if I'd known in what order to piece my pieces together. I messed that bit up, and consequently things aren't lined up quite as well as I'd hoped. But you've got to expect a few scraped knees when you're first learning to ride a bike, right?)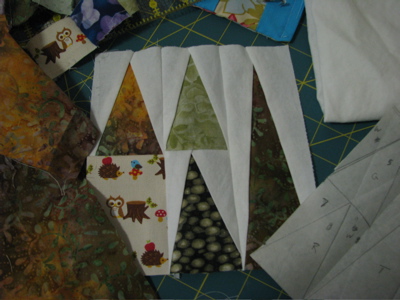 This is the first of four smaller squares I'll be sewing together to make one big block. I finished the second square today (no pictures yet) and it came out better. I used this month's free pattern for the "Geese in the Forest" block-of-the-month project, also at Twiddletails.
(The turquoise fabric at the top isn't part of this quilt block. It belongs to a different project.)
I think I could really get into freezer-paper piecing. It spares you the part of sewing that stresses me out—the measuring—and makes the cutting part pretty much foolproof. There's a bit of fabric waste, though. I imagine I'll be able to cut down on the amount of waste as I get the hang of the process. Besides, when it's fabric it isn't really waste, is it? It's scraps. You can do any number of things with scraps…