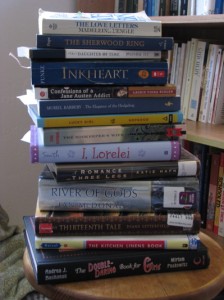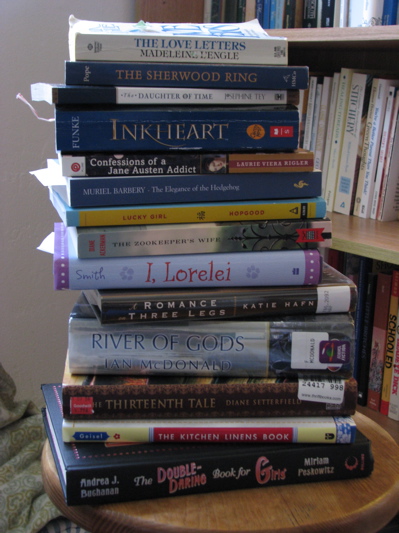 I haven't made much of a dent in that stack of books.
14 books in the stack.
I've read three books since posting that picture—only one of them (The Sherwood Ring) was in the pile. And another of the three (The Plain Princess) was very short, a fairy tale really. (Sweet and pleasant, very similar to my favorite George MacDonald story, whose name I am suddenly blanking on. The one about the Wise Woman who takes in the spoiled princess and the arrogant shepherdess girl.) The third, The Polysyllabic Spree, was a library request that came in and catapulted immediately to the top of my pile.
Am still reading Lucky Girl, which I had started several days before that post.
Read one chapter of River of Gods—that big fat book adding three inches to the tower in the photo. I really want to continue with this book but its whopping size is hindering me. I tried to read it in bed while nursing the baby and nearly dropped it on the poor child's head. If it were available through Kindle or Stanza I'd consider buying it to read on my iPod. But it isn't.
The Glenn Gould piano book was one of Scott's library picks. He read it and thinks I'd enjoy it too but it went back to the library before I got to it.
I've got Daughter of Time here on my bed; was going to pick it up today and then remembered The Mysterious Benedict Society which was supposed to be in the TBR stack photo but was hiding in the girls' room at the time. Since it's a copy we borrowed from good friends, I figure I ought to read it before I start anything we actually own. Am three chapters in and transfixed. What a delightful tale.
Meanwhile, I have received six more review copies since I wrote that post. I'd better get busy.
Comments
Eileen Smithdeal says:

THey all look so wonderful!! Maybe I will put a picture of my TBR pile on my blog to give you a laugh. You're not alone!

Anne says:

I've been compiling my TBR list and it's currently over 5,000. I don't think I'm going to be able to finish it before I die.

I added STOLEN to my list and started it last night. So far I'm loving it.

Michele says:

I look forward to your book recommendations! I have two daughters, 4.5 and 8. And thank you so much for bringing the music of Bonnie Ridout to my attention. Our whole family enjoys her music.

Michele

Melissa Wiley says:

Anne, I know what you mean! My whole house is a TBR pile of sorts. I can't count the zillions of books on the shelves awaiting their turn on the bedside table. (Okay, barstool.)

Michele, isn't Bonnie's music a delight! We still love Gimme Some Elbow Room the best.