July 4, 2011 @ 8:17 pm | Filed under:
Photos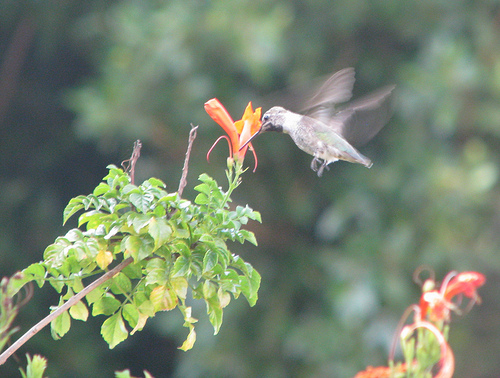 There's a pair of hummingbirds nesting one of the trees just outside our back fence, and they spend most of their time in our yard. One of them got into the house yesterday, causing quite a stir. Poor little thing. We managed to shoo him out, and Scott refilled the feeder. We didn't see him all the rest of the day, and we were a bit worried that the stress had been too much for him, but Rilla reported seeing him drink from the feeder while she was riding her bike. She calls them honeybirds. We ate our Fourth of July dinner outside under the trees, and there he was, Rilla's honeybird, right as rain, darting about the Cape honeysuckle. Which, come to think of it, may be why she thinks he's called honeybird.
Comments
adie says:

I love that – honeybird. What a perfect name. And fabulous photo!