It's been quiet on the blog this week because Scott and I snuck away to Anaheim for Wondercon on Saturday, and then my parents and niece were visiting from Colorado. Good times were had by all, as usual.
Because we were only at the con for a day, I didn't hit a slew of panels as is my usual con practice, and I spent far less time combing the hall for intriguing new finds than I usually do. But I did spy one item that made my heart go pitty-pat.
The work of artist David DePasquale caught my eye from several booths away—a gorgeous Peter and the Wolf print prominently displayed behind his table—and I drifted over for a closer look. I loved his work, loved it, began poring over the many prints he was offering for sale, deciding that if the price was reasonable, I'd bring one home for our walls. Possibly the aforementioned Peter and the Wolf, or one of several other delightful pieces that caught my eye.
And then—well, you'll understand my gasp of delight. I didn't just find a print, I found my print.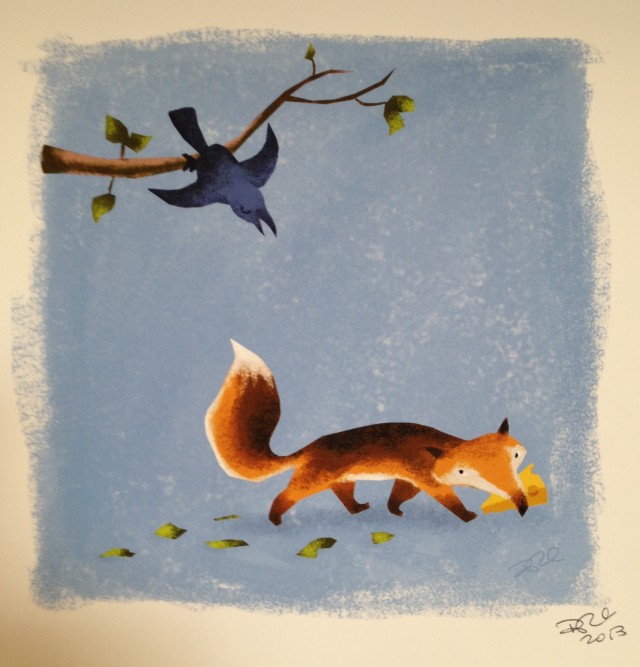 "Fox and Crow" by David DePasquale
He was amused by my excited reaction. I showed him the cover of my book. Lovely conversation. This is why I go to cons.
Can't wait to hang this print on my wall.
Comments
Melanie B says:

Oh what a delightful find!

Penny says:

That's a wonderful print. It will look great next to your book!

Carly says:

Oh, how lovely!