Wrote this post yesterday and then didn't post it.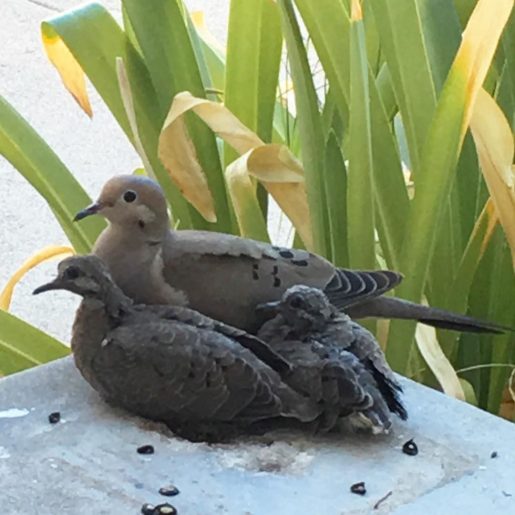 We're swinging back into high tide here, some of us. Wonderboy started seventh grade today (I KNOW, RIGHT?!) and I've planned a little block of time where I can do some extra fun stuff with the two littles. It's so strange this year—with Rose graduated (but still home and planning to remain part of our history studies as long as she lives here) and Jane heading back to college next month, I will have only three students in my little homeschool. Been a long time since that was the case!
And of course you know I don't do much formal "schooling" with my very smallest fry. Huck is reading very well (thanks in large part to Calvin & Hobbes) and has an uncommonly good head for math. Which means the last thing I want to do is make him DO math and start disliking it. So: his life rolls on with games and read-alouds and mental arithmetic challenges and nature walks (or, these days, spying on the baby mourning doves on our porch) and messy painting sessions. Now and then we do a little writing practice. He likes markerboards and chalkboards. He'll absorb whatever history and science I'm doing with Rilla. Oh, and they have their Shakespeare passages to learn; this year we're starting with the "willow cabin" speech from Twelfth Night.
Rilla will get the lion's share of my Charlotte Mason-flavored attentions this month. And here again we'll be doing what has worked so well for us before: literature-based history explorations, a lot of art, nature study and (to put a name on it, but not a curriculum) earth science, poetry, composer study. You could probably boil my "method" (it isn't a method) down to: fill the room with good stuff and see what happens.
I realize this isn't terribly helpful when you're a homeschooling parent trying to figure out your own plan. Lists of books we love are probably more practically useful, and this year we'll be drawing again from that giant booklist in my sidebar—Books to Read With My 9-Year-Old. She's ten now, but I said last year that it would likely take us several years to read everything on that list. I refreshed her shelf last week with some new treasures and now I have to resist the urge to dive into everything all at once.
Possibly more useful on a practical level is the short routine (if you want to call it that) Huck and Rilla and I enjoy at the start of a high-tide morning.
First, some yoga stretches (this is mostly for me, to get me moving), and during the planks we do some skip-counting. I can just about get through the sixes before I collapse. So right now, we work two planks into the series of stretches, one for sixes and one for sevens. Nothing fancy, just chanting "6, 12, 18, 24" and so on.
Then we sing our memory songs. The Horrible Histories English Monarchs song (thanks again, Penny, for introducing us to that a while back); the U.S. Presidents song from our old Singin' Smart cassette (we no longer own a cassette player but the older girls and I remember the melody); and sometimes a French children's song or Scottish folk song. I mean to add the U.S. State Capitals song (also from Singin' Smart) soon.
And then we finish up with our Shakespeare speeches. One line at a time, a couple of lines a week. Takes but a moment. Huck always insists he can't "rememberize," but then Rilla starts reciting and he joins right in. So, yeah.
This routine (if there were more of us, we might call it 'circle time,' but we're more of a triangle now) takes only 10-15 minutes. It happens around 9 in the morning, after breakfast, chores, and (for Rilla) piano practice. I try to keep it mellow—as mellow as anything is going to be with a seven-year-old boy doing planks. What I mean, though, is I try to keep it low-key and low-pressure. Just goofing around together having fun. Most days, it works.