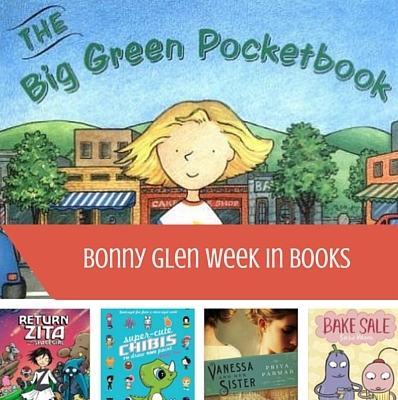 Time for another weekly roundup! Here are the books we read alone and together this week.
Zita the Spacegirl, Legends of Zita the Spacegirl, The Return of Zita the Spacegirl by Ben Hatke. Read by: Huck, Rilla, and Beanie, all at different times this week.
These graphic novels have wide appeal, as you can see by the range of ages enjoying them at my house—kids ages six through fourteen, this week! One morning this week, I left Huck home with Jane while I took the other kids on an outing. Now, normally Huck would jump at the chance for a whole morning of undivided attention from his big sister, but on this day I returned home to find him sitting on the couch, engrossed in the third Zita book. "The entire time you were gone," said Jane, answering my inquisitive glance. "He read the whole series, one after the other." When a six-year-old boy gives up the chance to trounce his grown sister in Mario Kart, you know you've got a winning series.
On to picture books. I never manage to track them ALL, because the boys read them in bed at night. You should see the stack on their floor right now. Actually, no you shouldn't, it's a mess.
Chester's Way by Kevin Henkes. Read to: Huck.
The Big Green Pocketbook by Candice Ransom, illustrated by Felicia Bond. Read to: Huck.
Diary of a Fly by Doreen Cronin, illustrated by Harry Bliss. Read to: Huck.
I wonder how many times I've read The Big Green Pocketbook out loud. It never gets old. And I still always choke up at the end!
Super-Cute Chibis to Draw and Paint: Giant-sized Fun from a Micro-sized World by Joanna Zhou. Enjoyed by: Rilla, Beanie, and me.
Beanie and Rilla have been using this book for inspiration and instruction for at least a couple of years now. Seems like it is ALWAYS out on a desk or table beside a pad of paper. Has to be their favorite how-to-draw resource. I've been trying to add more pictures to my bullet journal and I decided (inspired by SailorMimzy, Ms. Cendolife, and Chotskibelle on Instagram) to try to design chibi figures for our whole family. Naturally I turned to my resident experts for advice. I'm still a rookie compared to my girls, but I'm getting there.
Bake Sale by Sara Varon. Read by: Rilla.
Another beloved graphic novel. Sara Varon illustrated my friend Cecil Castellucci's wonderful Odd Duck, a great favorite around here. Bake Sale is a quirky story about friendship. Yes, that's an eggplant and a cupcake making…cupcakes. Rilla almost missed our Saturday night art date because she didn't want to put this one down. (I'm seeing an absorbing-graphic-novel trend this week.)
A Child's History of the World by Virgil M. Hillyer. Read to: Huck and Rilla.
I guess I didn't mention this one last week or the week before, but I should have! This is Rilla's history spine. We read a couple of chapters a week, with Huck listening in—one of our narration texts. This week was the Trojan War.
Curious George's First Day of School by Margret & H.A. Rey. Read by: Wonderboy.
Sudden Curious George attachment happening here. I expect there will be many more in our roundups, as soon as I get a chance to make a library run.
Betsy and the Great World by Maud Hart Lovelace. Read by: Beanie.
Oh, I just love this book so much. I asked Beanie to reread it as context for our early 20th-century studies. Betsy's tour of Europe involves a romance in Venice, a long stay in Germany, and a hurried departure for home from England when the Great War begins. The final chapters involve one of my favorite moments in all of literature. I mean that without any hyperbole at all. It's even better than the end of Pride and Prejudice.
Dancing Shoes by Noel Streatfeild. Read by: Wonderboy (in progress).
This book makes the list twice this week! Rilla and I are still listening to the audiobook (below) during our Saturday-night art dates. I pulled out the hard copy to check how much we had left, and Wonderboy wanted to read it. He's slowly making his way through. Fun fact about the edition pictured here: I'm pretty sure this was the first book I ever wrote cover copy for.
UPDATE: I am informed that Jane, age 20, saw this book lying on a table and reread it this week as well. 🙂
Storm Thief by Chris Wooding. Read by: me (in progress).
Rose asked me to read this—one of her favorite books. I'm only a chapter in so far, but it's gripping. I'll report back later.
Vanessa and Her Sister: A Novel by Priya Parmar. Read by: me (in progress).
My bedtime Kindle reading is this fictionalized tale of Virginia Woolf and her sister, as told by Vanessa. So far: fascinating and fraught. After I finished To the Lighthouse I was hungry for background on Woolf, and I found this in my queue of digital review copies. Perfect timing. More to come on this one too, I'm sure.
Books Continued from Last Week:
Notes:
Beanie's lit class (which I teach) finished a two-week discussion of An Old-Fashioned Girl. Alcott is so funny—this is such a heavy-handed, moralistic book, quite preachy in places, with absolutely zero subtlety in its contrast of simple, wholesome, "old-fashioned" ways of bringing up children (especially girls) and the unhealthy "modern" practices she observed in the middle- and upper-middle class East Coast society of her day. And yet…despite the many anvils she drops all over the place, I am drawn in, I get wrapped up in the characters' ups and downs. My group of 14-year-old girls found much to discuss in the contrasting upbringings of Fanny and Polly, and in the vision Alcott paints of a "future woman"—"strong-minded, strong-hearted, strong-bodied, strong-souled," she says—envisioning us, the girls and women of generations to come.
Next up for this group: Sarah Orne Jewett.
We're nearing the end of Charlotte's Web—too soon, too soon! When we left off, the crickets were singing about the end of summer, and everyone's preparing for the county fair. "Summer is over and gone," sang the crickets. Good-bye, summer, good-bye, goodbye!"
---
Related: