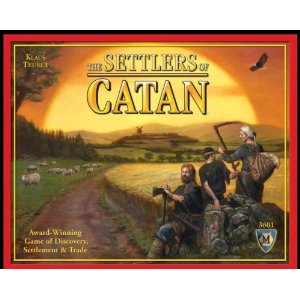 Particularly Cool Stuff My Kids and I Have Learned a Ton From or Just Plain Had a Good Time With:
Settlers of Catan
, the board game. Jane got this for Christmas last year. We've been obsessed ever since. Except when our friends hijack it and keep it for weeks because it is that great a game.
Signing Time DVDs. Catchy songs, immensely useful vocabulary in American Sign Language. I trumpet these wherever I go. We talk about Rachel like she's one of the family.
Prismacolor colored pencils. Indispensable. I was amused to see that Jane mentioned them in the first line of her "I Am From" poem. She's right; they have helped color the picture of her life.
Uncle Josh's Outline Map CD-Rom. Because maps are cool, and maps you can color (with Prismacolor pencils, hey!) are even cooler. The kids are constantly asking me to print out a map of somewhere or other. You can find other outline maps available online (for free), but I like Josh's for clarity. And once when I had a problem opening a particular map (it's a PDF file), I called the help number and it was Uncle Josh himself, a most amiable gentleman, who quickly solved my problem.
The Global Puzzle. Big! Very big! Will take over your dinner table! (So clear off that laundry.)
Set. It may annoy you that your eight-year-old will be quicker at spotting the patterns in this card game than you will. There's a free daily online version as well.
Quiddler. Like Scrabble, only with cards. This, too, can be played online.
Babble. Like Boggle, only online and free.
Chronology, the game. Like Trivial Pursuit, only with history.
Speaking of online games: the BBC History Game site is awfully fun.
And Jane was fairly addicted to Absurd Math for a while there. Need more free math puzzles? Nick's got a bunch.
A Case of Red Herrings and Mind Benders. Logic and problem-solving puzzles: a fun way to pass the time on long car trips or in waiting rooms.
Zoombinis Logical Journey computer game and sequels. Stretch your brain trying to get the little Zoombinis to a village where they can bounce in peace.
Oregon Trail. The game that launched a massive wagon trail rabbit trail for my kids a couple of years ago—and they still aren't tired of the game. (Now there's a Wii version, too!)
Roots, Shoots, Buckets & Boots : Gardening Together with Children. Plant a sunflower house! Up-end a Giant Bucket of Potatoes and dig through the dirt for your rewards! Grow lettuce in rainboots! Boots! With lettuce growing in them!
Wild Goose Science Kits. Fun experiments with a low mess factor. Note to self: remember the Wild Goose Crime Kit come Christmastime. (Sadly, these are no longer available. Wild Science offers similar kits.)
A microscope. Sonlight sells a nifty set of prepared slides with paramecium and other fun stuff for the kids to peer at.
If the scope sparks an interest in dissection, there's a way to do it online with no actual innards involved: Froguts! The site has a couple of free demos to occupy you while you save up for the full version. (Which I haven't seen yet, but it does look cool.) HT: Karen Edmisten.
Klutz Books. Over the years, we've explored: knitting, embroidery, origami, magic, Sculpey, paper collage, paper dolls, beadlings, and foam shapes. Look under any piece of furniture in my house and you will find remnants of all of the above.
Which reminds me: Sculpey polymer clay. Is it possible to get through a day without some? My children think not.
Usborne's calligraphy book and a set of markers.
But while I'm on Usborne, my kids also love and use at least weekly: Usborne Science Experiments Volumes 1, 2, and 3.
Muse magazine. The highlight of Jane's month. From the publishers of Cricket. We also like Odyssey, Click, and Ask.
Classical Kids CDs. Beanie's favorite is Vivaldi's Ring of Mystery.
Refrigerator poetry magnets. I gave Scott the Shakespearean set a couple of Christmases ago. Note to self: You are not as brilliant as you think! You were an English major, for Pete's sake, with a minor in drama. Thou knowest full well old William was a bawdy fellow. If you don't want your little ones writing poems about codpieces, stick to the basic version. But oh how I enjoy the messages Scott leaves for me to find and then pretends he doesn't know who wrote them:
I am
so
in love
with my
delicate
wench.
And of course of course of course, Jim Weiss story CDs. I rave about these every chance I get because they have added such riches to my children's imaginations. For years, they have listened to Jim's stories after lights-out. Greek myths, Sherlock Holmes, Shakespeare, folk and fairy tales, the Arabian Nights, the Jungle Book: of such stuff are dreams woven.
Check out my Giant List of Book Recommendations too!
Comments
stef says:

very nice, Melissa 😛 ! i just told hubby i was DONE with school shopping for a while and here i am adding $100+ worth of products to my "buy next" list. LOL. some of these things have been on my list for a while but i have been putting them off — now there's an urgency after just seeing them here!! 😀

oh, and love the poem — soooo sweet!

MelanieB says:

Oooh this list makes me droool. But then the practical voice starts whispering: What are the age ranges for these various materials? My eldest is 2 and most of these sound like stuff for much older kids… when might I be looking at buying things that we can use now rather than materials which will be dust catchers for a while? (I buy books for older kids because I enjoy reading them now but games and supplies would just be silly. Obviously Signing Times would be relevant now… I'm saving my pennies. But what else might we be interested in getting in the next year or two?

Ouch that's probably a lot of work so feel free to ignore the question if you're too busy. But maybe some commenters might help?

Melissa Wiley says:

Melanie, I'll answer quickly but I'd love others to chime in as well. On this list, I think only Signing Time and Sculpey are right for the under-3 set.

Well, and Prismacolors, but crayons are probably more satisfying (and less prone to point-breaking) at that age.

There are a couple of the Jim Weiss CDs which would work for the very young. Uncle Wiggly comes to mind. 🙂

(Ooh, and Jay O'Callahan story tapes—The Red Ball is our favorite!)

Toys my little ones like (because of Wonderboy's developmental delay, I sort of have 2 yr old twins at the moment):

Wedgits (Surely I have posted about these before? Grabs the attention of every child who enters this house, no matter what age, and many parents as well. Plastic but FUN and versatile.)

Something I bought from Timberdoodle eight years ago, dunno if they still carry them: jar of magnetic butterflies/ladybugs/caterpillars/leaves that fit together in patterns like, what do you call 'em?, am blanking on the word, tesser-something, not tesseract though, LOL! Those colorful flat shape blocks you can arrange in beautiful patterns. BLANKING. Anyway, these bug ones live on our fridge and all my children have loved them, especially at ages two, three, four. On long car trips I've been known to bring along a cookie sheet and these magnets: VERY absorbing.

Melissa Wiley says:

TESSELLATION! Thank you Jane.

Melissa Wiley says:

My rhapsodic Jay O'Callahan post.

Wedgits website
(I got 'em cheap at Timberdoodle.)

MelanieB says:

Thanks! Good to file away for b-day and Christmas ideas.

We might look up the story tapes too. Might help during the dinner time crunch. Last night and tonight I've been reciting Jesse Bear What Will You Wear from memory as I cook while Bella turns the pages. It seems to be her clingiest time of day. Why must I put on her socks while my roux is cooking? We've been listening to The Lord of the Rings in the car. Don't know how much Bella listens but at least she doesn't object. But something aimed more at her might help when I can't read.

MelanieB says:

And I'd forgotten about Set online. Thanks for helping me waste more time online! 🙂

Melissa Wiley says:

LOL, that's me: helping mothers everywhere spend money and waste time. 🙂 🙂 🙂

Sarah N. says:

Great list! We've been looking for some new games and Set looks perfect for us to enjoy as a family.

We got International Plaything's Tubation building toy as a gift when my daugther was 2 and at almost five she still loves the tubes as does her 16 month old sister. Here's a link: http://tinyurl.com/62dtum

We're also very fond of the Frances Collection story CD (4 of Russell Hoban's Frances books).

Fe says:

I've used Set with Puggle on occasion from the age of two. _Many_ modifications… but he seemed to enjoy it all the same.

Aadel says:

This makes a great Christmas list for grandparents or gift exchanges!

Jordana says:

I love this list! Another CD we love around here is Beethoven's Wig. Silly lyrics for classical music that sneak into one's head and stick.

Jill says:

If you haven't been to the froguts website recently, they have new pricing for at home use (including homeschools)– $30/year, which is MUCH more doable than $300.

Beth Cole says:

Love this post, am a former homeschooler turned middle school math teacher and did a lot of tessellations at the end of school. Even though I don't homeschool anymore, these are still great suggestions for after school, weekend, holiday and summer activities…I can't wait to get the stories on cd so we can listen to them to and from school/church/errands/daytrips.

Thanks!!

Clothdiapermama says:

Great list and I now know some stuff that I want to get for gifts.

Sheryl says:

I loved this list! A friend of mine has mentioned some of them but she doesn't live here any longer. I was glad to have heard about this on homeschool mom email.
thanks.
sheryl- believing God to teach me how to teach in this manner!wow

Genevieve says:

Can I just say after all these years I still love and refer to this list come Christmas time?!! Don't suppose you will post something like in the near future? *grinz* Books, games and anything else you would like throw at us. *hee*