I owe my daughter Jane a nod of thanks for this one. Sunday-morning-at-10:00 panels don't usually make my list, but Jane attended Comic-Con for the first time on Sunday and she was especially keen to hear Rick Riordan speak about his Percy Jackson books. So in we went, bright and early, and snagged good seats about four rows from the front.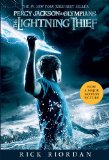 The interviewer was acclaimed Irish author Michael Scott, an authority on Celtic folklore and writer of the popular Nicholas Flamel series. Both Scott and Riordan had a wonderful rapport with the audience, showing genuine affection for their enthusiastic young fans. I so enjoyed the warmth, humor, and wisdom radiating from these two amiable authors. Michael Scott asked wonderful questions and could undoubtedly have gone on asking them for a good long while, but the queue of readers eager to ask Riordan their own questions was so long that Scott graciously turned the floor over to the fans about halfway into the hour.
I'm pressed for time today (this week, this month) so what I'm going to do is simply type up my notes. If any point is particularly interesting to you, leave a comment and I'll try to expand on it there.
• Girl a few seats down from us is wearing satyr horns. Gotta love Comic-Con!
• Amusing exchange over pronunciation of Riordan's name: Scott noted the correct Irish pronunciation (REARdon) and Rick, laughing, acknowledged that somewhere along the line one of his ancestors had Americanized it to REYE-erdon.
• Michael Scott: "How do you like your first Comic-Con?"
Rick Riordan: "I'm so relieved to know there are 137,000 people geekier than I am." Got huge laugh. Funny!
• Lightning Thief began as a bedtime story for Rick's son, who was struggling with ADHD. (Percy has ADHD and is a very poor student who, in the beginning of the book, is puzzled by one particular teacher's confidence in him.)
• "Who is your favorite character?" —Riordan relates to Percy on many levels, Percy has his voice, his sense of humor, but probably his favorite character is Tyson the Cyclops. (My notes add, "hang out with / eat BPJ"—wonder what I meant there?) UPDATED: Jane says it was PBJ. Um. Of course! Eat PBJ with! Bad handwriting!
• Scott asks about writing process. Riordan says he knocks out first draft in two months, spends rest of year revising.
• Scott asks if there is ever danger of a character taking over? Rick: Yes, often. Sometimes hard to remember where to put the spotlight. "My creations push me around."
• Riordan says he's returning to Camp Half Blood in new books, crowd goes wild. Will see Percy and others. First two chapters online now! (Enter password: newhero. Jane says it's on Wikipedia so I guess it's okay to share?)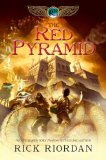 • With The Red Pyramid, Riordan began a new series (The Kane Chronicles) based on Egyptian myths. Scott asked how that came about. Rick: Young readers kept writing/asking him what was next, after Percy Jackson. Another kind of myth? He was interested in Egyptian mythology, some great stories there, not often explored nowadays. "Fascinating stories not being taught." He is introducing lesser known gods. Was intrigued by the House of Life, "oldest school of magicians in the world."
• Rick then spoke about the return to Camp Half-Blood in new books. My notes say, "BIG CHEER." Happy readers in audience. "Heroes of Olympus." First book called The Lost Hero, out in October.
• They talked about Rick's 39 Clues book, the first in the Cahill series. He loved the concept of historical heroes being somehow related, thought it was a fun device. There will be 10 books, various authors (think they're on book 9 now?). Riordan created the story arc.
• This led to my favorite part of the discussion, a conversation between Scott and Riordan about the importance of myth and what a great loss it is when people grow up without a familiarity with these old stories and legends.
Scott: "How important is folklore in education?"
Riordan: "When we don't teach folklore, we're not teaching our heritage. We lose our connection to the roots of literature." Spoke about importance of being able to recognize archetypes.
• People sometimes ask him if he got the idea for Percy Jackson from Harry Potter—boy unaware he possesses special abilities, thrust into save-the-world situation. Riordan: "No—I got it from Hercules, 3000 years earlier!" Crowd guffaws.
• Michael Scott (also a folklorist): "What other mythologies are you planning to use that I can't?" HUGE appreciative laugh from crowd. Riordan answered, "You're better at mixing mythologies." Loved the camaraderie between these two. Scott turned the floor over to the long line of audience members (mostly kids) with questions for Riordan.
• Q: "Would you want the powers of Zeus?"
Rick: "Well, I wouldn't turn them down!" But he likes Poseidon better, second best so has try harder.
• He did not see the Lightning Thief movie. In general does not see films based on books he likes.
• Riordan's advice to young writers: Learn good storytelling. Read a lot. Write a lot. Don't give up.
• Michael Scott added: "Get a comfortable chair—you'll be spending a lot of time in it." And learn how to type properly. Invaluable skill, necessary in this age of keyboarding, will make the job much easier, allow your fingers to keep up with your thoughts. To which I add a resounding HEAR, HEAR!
• Some questions about the Kane Chronicles. Rick says he "left Carter and Sadie in a bad place." Carter will have a new pet: Serpent of Chaos. (I think. Notes are spotty here.) Sadie will see Anubis again.
• (Possible spoiler alert—I've not read The Red Pyramid yet so I don't know how much this gives away. Skip down if you'd rather not risk it.) Q: Why Camelback Mountain? Riordan: Has always been intrigued by it, seemed a perfect place for the god of the desert.
• He likes to write about places his family has visited, so his son could envision the scene.
• Q: Which book was the hardest to write?
RR: Always finds the second book in a series the most difficult. Sequels are tough, making it magical all over again.
Michael Scott added: And if we mess it up, you're going to let us know! You know our books better than we do ourselves.
• Q: What's your favorite part of writing?
RR: When I'm done. (Amen to that!) —Until the next day, when he starts second guessing.
Second favorite part is when he holds the actual finished book in his hand.
• Scott asked: Would you rewrite an already published book if you could?
RR: Oh yes!
Scott (I think?) quoted "A book is never done—only due."
• October 12 is pub date for two books. Here I've written "GN–LT" so your guess is as good as mine. Graphic novel? Aha! Graphic novel of the Lightning Thief, I think! And maybe the Camp Half-Blood book.
• Q: Who's your favorite superhero?
RR: Spider-Man.
• Q: Where did you get the idea for Percy's sword, Riptide?
RR: It was his elementary school daydream: a pen that would turn into a sword, he could jump on desk and wield it in the classroom.
• Q: Can you recommend some other books?
RR: Michael Scott's work, of course! Suzanne Collins—both Hunger Games and her Gregor the Overlander books.
There endeth my notes. It was a fantastic panel. I'd have liked to sit there for another hour, listening to Riordan and Scott discuss craft! But we had yet another terrific panel to hurry to—the "Entertaining Your Inner Child" discussion with Jennifer Holm and other children's graphic novelists. More on that one later.
Sorry no pictures! My flash made them blurry. Drat.
More on SDCC 2010:
A few photos
Photos of supercool steampunk wheelchair
Awesome sketch drawn for me by the incredible Fiona Staples
What I did at SDCC
LOST Encyclopedia Panel
Epic fantasy panel
Books that caught my eye (part 1)
Books that caught my eye (part 2)
Tags: 39 Clues, how to pronounce Rick Riordan, Lightning Thief, Michael Scott, Percy Jackson, Red Pyramid, Rick Riordan, San Diego Comic-Con, SDCC, SDCC 2010, writers on writing
Comments
Stephanie says:

The boys and I saw Rick at the National Book Festival and loved him. I found that he related to the kids so well (probably because he was a teacher). Not all authors do that well. You can tell he truly loves what he does. Did you know that he homeschooled his son for a little while (the one that he wrote Percy for). Not sure if he is still doing it, but I remember him talking about it on his blog.

You definitely have to read Red Pyramid. My 13 year old says that it is better than Percy (but he has always been partial to Egyptian mythology over Greek). All of us really enjoyed the audio book. Oh and one of the main characters (the brother) was homeschooled. Can't wait for the next one.

steve says:

one of marshall's favorite authors!

Julia S. says:

I'm glad to hear he didn't see the Percy Jackson movie. I took my son special to see it since we both had read the books, but boy were we disappointed. All I could think through the whole movie is Riordan probably to gouge his eyes out after watching this.

The notes were wonderful. Thank you for typing them up!

Leslie says:

What a delight to read! Great pick Jane! Our Riordan readers will revel in your post. Thank you for sharing. Also, meant to comment on your big news of two new books in the works. Caaaaannnnnt wait!

Silvia Barrett says:

Emily was excited to hear all the details–she LOVES the Percy Jackson books and just read the Red Pyramid. I'm going to get a couple of Scott's books for her to see if she'll enjoy them also.