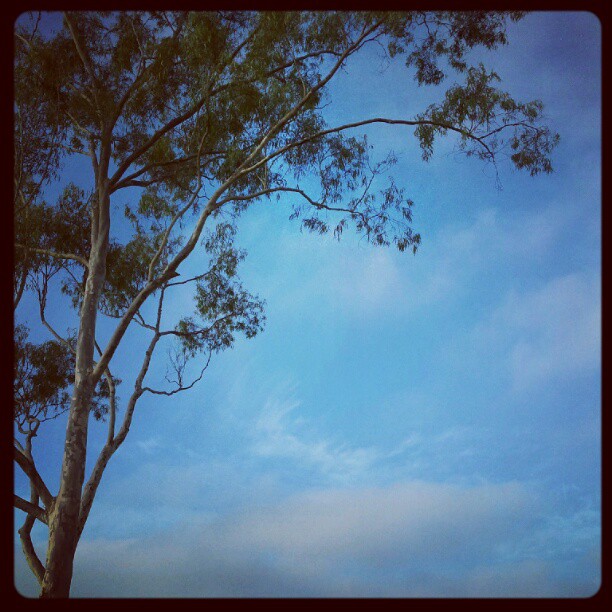 The view from our morning walk
Things we read today:
• Landmark History of the American People. I love this book. The chapters on the rise of the American political parties, which we read a couple of weeks ago—fascinating, engaging, even funny in parts, and of course highly relevant to current events, ahem. We've read big chunks of Landmark in years past, but never the whole book in one go; it's a lot to take in. Finished up the Civil War section last week and are just about ready to head into the Antebellum era. Going to hold off a bit, though, until we catch up to 1865 in our American lit readings. Which brings us to…

• Anne Bradstreet. Read about her, read a couple of poems.
• The Mark of Athena by Rick Riordan. Just came out. We procured a copy yesterday and it was immediately devoured by the first two sisters in line. Today was Beanie's turn. All other events come to an immediate halt when a new Heroes of Olympus book crosses the threshold.

• Also I'm seeing The Extraordinary Education of Nicholas Benedict (Mysterious Benedict Society prequel) The Mysterious Benedict Society and the Prisoner's Dilemma [edited because I should learn to read book titles] in a different set of hands every time I turn around. Scott picked up a copy after my booksigning on Saturday. (This is the peril of bookstore appearances. Any royalty income you might eventually see from the books sold at the event is spent before you leave the shop. Basically, I write books to feed my bookbuying habit.)
• To Huck and Rilla: Jesse Bear, What Will You Wear? and Katy and the Big Snow. Ahhh….
• Wonderboy is hooked on Calvin & Hobbes. His favorite bedtime reading. He falls asleep under a collection every night.
Other today things:
• This morning was finally cool enough (which is not to say cool, just not broiling) for me to plant the treasures we picked up at last week's City Farmers outing. I even did a little weeding. In a San Diego October (our crispy season), that feels like a Herculean feat. (Speaking of the Heroes of Olympus.)
• Thursday means Thicklebit!
• In the made-my-day category, there's this lovely review of The Prairie Thief by Amy at Hope is the Word:
Thankfully, I was alone when I read the denouement of this lovely little middle grade tale; anyone who watched while I was reading would surely have wondered how I could derive so much enjoyment (as evidenced by the broad grin on my face) out of what is obviously a children's story.  This one is pure enjoyment.
Yay! So happy.