Today's Google Doodle is a tribute to Little Nemo in Slumberland—one of their best Doodles ever, a tribute to Winsor McKay. Don't miss it! And be sure to click the tabs. GeekMom has a nice post up with some background.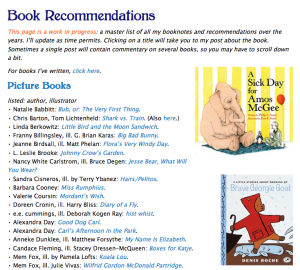 New Thicklebit! Me love that boy.
I worked alllllll weekend on the book recommendations master list, but I still have a long way to go. Happy with its progress, though!
Last day to nominate books and book apps for the CYBILs! The Book Apps team would especially appreciate your help—lots of great apps still waiting to be nominated.
Semicolon reviews The Prairie Thief: "a delightful little tale."
I also like the fact that this story for young readers doesn't shy away from those wonderful, challenging vocabulary words that my young readers at any rate relished and gloried in. Ms. Wiley uses words like "obfuscating" and "predilection" and "amenities" and "laconically" just as handily and appropriately as she does the shorter, also vivid words like "pate" and "mite" and "frock", all of which might enrich a child's vocabulary as well as delight her mind.
(Amy at Hope Is the Word liked that part too.)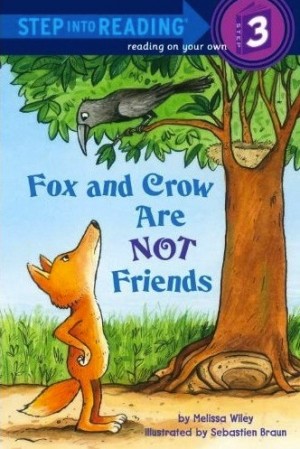 Fox and Crow Are Not Friends is reviewed in this month's School Library Journal:
Children eager to move beyond easy readers and older students requiring simple text in a chapter-book format will find this title a good choice. As in many familiar folktale themes, Fox and Crow are trying to outwit each other…."That will teach you not to steal my cheese," says Mama Bear, whose presence in the earlier chapters will be noted by astute observers of Braun's lively, colorful cartoon-style illustrations. With its crisp writing and short sentences, this is a solid addition.
It also gets a mention in this SLJ piece: "Fresh and Fun Books for Emergent Readers":
Melissa Wiley retells and expands upon an Aesop's fable in Fox and Crow Are NOT Friends (Random House, 2012; Gr 1-3). Three entertaining chapters describe how these two enemies repeatedly—and humorously—try to outwit one another to earn bragging rights along with a tasty piece of cheese. Sebastien Braun clearly depicts the animals' antics with lighthearted artwork in sherbet hues. The straightforward text, amusing illustrations, and hilarious rivalry will encourage developing readers to persevere.