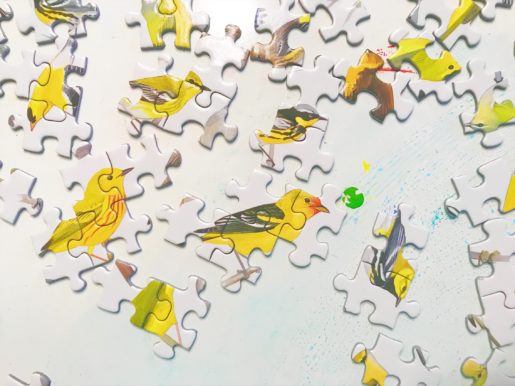 A quickie today:
I've been getting lots of queries on Instagram about our puzzle boards as seen in the background of the pic, a few posts back, of Huck levitating off the sofa. Katharine asked about them, here, too, and I answered in the comments:
They're whiteboards! I bought them a zillion years ago from a website called markerboardseconds.com or something like that. Discounted for scratch-and-dent, and man, what a great purchase that has turned out to be. What you're seeing in the pic above is the backside, which we use constantly for puzzles–that little card table is right next to the big dinner table, so we need to be able to lay out our pieces and move them off the big table when it's time to eat.

The other side is the whiteboard surface. We use some for homeschooly things, but mostly under watercolor paintings. Again, it's nice to be able to move the wet paintings off the table to dry. They're coated with years of spatter at this point.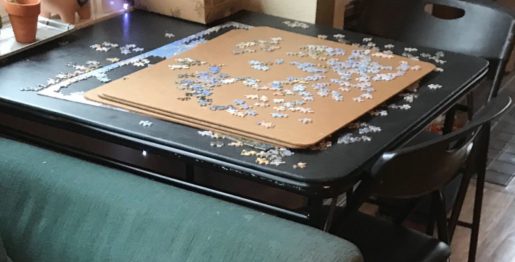 That old markerboard seconds site seems to have disappeared, but you can find something similar (albeit considerably pricier) at Waldorf suppliers like Lyra, where they are sold as painting boards. And I've seen plain brown ones (no whiteboard side) at art supply shops. When I mentioned in yesterday's post a topic idea about our best homeschooling purchases ever, these markerboards are what sparked the idea. We use them constantly, daily. The U.S. Presidents are listed on the back of one of them—probably permanent now since I think we wrote them out at least five years ago. And there's a House of Stuart (or Tudor? both, probably) family tree stained into one of them. And then years and years of watercolor backsplash, as you can see in the top photo here. If you need to move a bunch of wet paintings off the dinner table, you can stack the boards up with Legos or blocks to create space between each tier.
Comments
Amy H. says:

My husband bought a really big masonite board from Home Depot for our puzzles (since we usually do 1000 piece ones). I store them upright behind the hutch.

Penny says:

Agreed! And I will never be able to part with them – the memories in those splotches!

Anne says:

Shower board from Lowes or Home Depot works great for this! It's about $20 for a huge one, and they will cut it in pieces for you. I've been using my set for years and years.