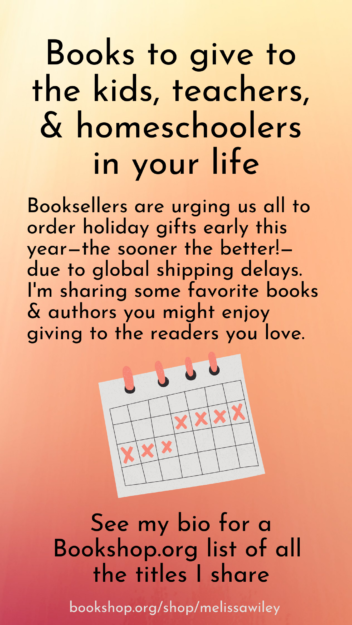 I'm in a good groove with posting right now! Lots of stuff happening on Patreon (including work-in-progress pics of a fun stitching project), and I've been busy on Instagram too. To encourage readers to order books early for holiday shopping, I'm posting a series of book recommendations in my IG Stories every day this week. Mostly middle-grade books and younger, with a few selections included for adults. The whole series is viewable in a Highlight on my Instagram profile page. Those links should work for you even if you aren't an IG user (I think), but if you have trouble viewing them, let me know and I'll figure something out.
Or you can visit my Bookshop.org storefront, where Beanie is helpfully compiling a list of all the titles I'm sharing. (That's an affiliate link, but full disclosure, I've made less than $20 on Bookshop.org referral fees in total. Amazon referrals were much more lucrative, but I switched over to Bookshop.org quite a while ago, to better support independent bookstores.)
Speaking of Patreon
I added a new tier in August but haven't told anyone about it (not even current Patreon members) until this moment. Most of my tiers are quite low cost ($1/month for weekly posts on creative practice; $3/month for behind-the-scenes project posts (both stitching and writing); $5/month for a book discussion). This new one is different: I'm offering a limited number of one-on-one sessions. Here's the lowdown:
One-on-one tier ($60/month; feel free to jump up to it for a month or two, or it may be ongoing). This tier consists of a 45-minute private Zoom chat (and email followup) to work on solving a problem or puzzle you've been grappling with. Such as…
• Need help figuring out a social media platform or app, or help creating a social media plan?
• Want personalized recommendations for homeschooling or your reading life?
• Want someone to walk you through iPhone photography settings and how to use photo editing apps?
• Looking for a planner (digital or paper) that meets your specific needs?
• Need a jump-start with habit building or time management?
• Wondering how to establish a daily creative practice that nourishes and delights you?
*Note: just about the only topic I can't tackle in these sessions is a manuscript critique. I can advise about research tactics, but I can't chat about story ideas or give notes on a work-in-progress.
I'm offering ten spots at this time. I'd love to help you unpuzzle your puzzles! And you'll be helping me pay some rather alarming dental bills. 😉 Everyone wins! (Especially the dentist.)