August 5, 2016 @ 4:00 pm | Filed under:
Art
August Daily Drawing Challenge: 31 Art Journal Prompts with Dawn Sokol at CreativeBug. Dawn's Art Journaling class was what kickstarted my daily sketching habit two years ago this month. (!) This "31 Prompts" is a new class that looks like a good time. A CreativeBug subscription is $4.95/month, which I think is a pretty great deal for the huge array of courses that gives you access to. Rilla, Beanie, and I manage to wring every penny and then some out of our subscription.
(Affiliate link, but I'm also a happy subscriber. I recently took and quite enjoyed Intuitive Painting with Flora Bowley. Other favorites are Creative Doodling with Pam Garrison, Daily Painting Challenge with Augustwren who happens to be one of my favorite Instagrammers, and anything taught by Lisa Congdon.)
***
Creative Lettering with Andrea Joseph at Sketchbook Skool. Andrea's week in Sketchbook Skool's Seeing "kourse" is one of my three favorite sets of lessons in the entire SBS lineup. I love, love, love her art and her mellow approach to teaching. And the way her sketchbook pages are an interplay of words and images is tremendously appealing to me. I also really resonated with a comment she made in one of her zines about how she has always had several "handwritings"—me too! Me too! I never could commit to a single style of R or F. So the idea of a whole course devoted to this subject has me pretty giddy, I must say.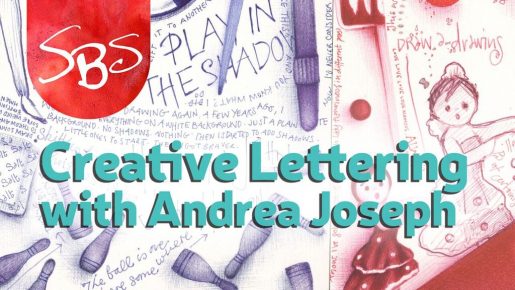 (Not an affiliate—just a huge fan of Andrea Joseph and Sketchbook Skool!)
Comments
Charlotte says:

Hey… my 15 yo daughter is looking for a pencil portrait class. I tried to find one in the area but I haven't had any luck yet. Can you recommend someplace online? She wants it to be graphite pencil (not colored) and just portraits (head and shoulders, maybe). Thanks!