December 1, 2012 @ 12:04 pm | Filed under:
Books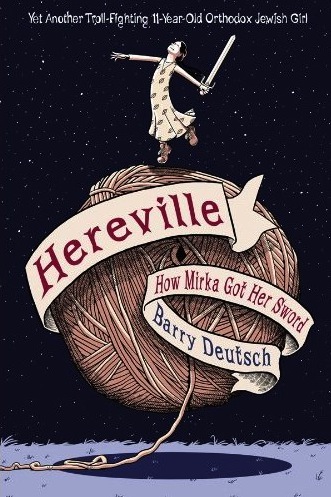 Someone on Twitter was looking for suggestions. I rattled off a list…and then copied it to Facebook and thought of more…and I figured I'd throw the titles up here too, for easy access, though of course this is a mere sliver of what I'd put on my ideal Books for Ten-Year-Olds bookshelf. Later, when time permits, I'll try to come back and add capsule reviews, but today is not that day.
(Um, it goes without saying I recommend my own The Prairie Thief for this age, yes? Because I'm totally saying it anyway. For boys and girls. Ahem.)
• Turtle in Paradise by Jenni Holm
• The Evolution of Calpurnia Tate by Jacqueline Kelly
• Hereville: How Mirka Got Her Sword (and sequel) by Barry Deutsch
• Smile by Raina Telgemeier
• Jane of Lantern Hill (happy sigh) by L.M. Montgomery
the Betsy-Tacy books (obviously)
• The Firelings by Carol Kendall
• The Gammage Cup / The Whisper of Glocken by Carol Kendall
• Understood Betsy by Dorothy Canfield Fisher
• By the Great Horn Spoon by Sid Fleischman
• The Children of Green Knowe by L.M. Boston
• The Great Turkey Walk by Kathleen Karr
• Rowan of Rin (and sequels) by Emily Rodda
• Wonderstruck by Brian Selznick
• The Penderwicks series by Jeanne Birdsall—the first one is my favorite
• Rules by Cynthia Lord
• Bad Island by Doug TenNapel
• Linnets and Valerians by Elizabeth Goudge
• The Ranger's Apprentice series by John Flanagan
• The Warriors books by Erin Hunter—Rose's longtime obsession!
Harold Underdown suggested Rapunzel's Revenge by Shannon Hale, and I second that—my kids and I loved it (and the related Calamity Jack—both graphic novels); they love all Shannon's books like CRAZY. Next to Betsy-Tacy and Percy Jackson, the Shannon Hale novels are the most frequently borrowed books by their friends. We basically have a Lovelace/Riordan/Hale lending library going here.
Obviously, I could go on and on here. (See the comments for more suggestions.) This truly is a just-off-the-top-of-my-head list. Also check out my master list of book recommendations!
Comments
Melissa Wiley says:

Suggestions from others on the FB thread:

Peter and the Starcatchers
Wonder by R.J. Palacio — have heard endless praise of this, is on my TBR list

Haley says:

I would LOVE to see your list of favorite folk tale and fairy tale books, should you ever be inclined to post it!

sarah says:

I love this list – and found a few books on it I completely forgot to put on my own list! So I have added them and might try out some of the others too because who cares what age a book is meant for, right?

Rebecca says:

My 9 year old son is a voracious reader and we both loved The Prairie Thief (my 7 year old is actually now reading it and really likes it – he says it's kind of like My Neighbor Totoro which is one of our favorite movies). He also really enjoyed Wonder by R.J. Palacio (as did I). We recently read Ida B. and True (sort of) by Katherine Hannigan and really enjoyed them. I loved the Evolution of Calpurnia Tate and the Penderwicks but he wasn't as interested in them. He also like the Mysterious Benedict Society quite a bit. He read Lord of the Rings trilogy this summer and loved it. Both my boys have recently loved Zita and the Spacegirl books – we're dogearing the library copy so perhaps we should buy our own. Just off the top of my head…

Fanny Harville says:

Great list! Many of these also make great read-alouds for a younger child, or I should say I've read many of them aloud to my 8-year-old son in the past 3 years. Now, I'm eagerly awaiting an update to the Graphic Novels section of your master book list (I note Rebecca's mention of Zita and the Spacegirl above) so I have some guidance as I seek out good (preferably nonviolent or too scary) options for my drawing-and-story-loving boy… 🙂

Melissa Wiley says:

We too are big Zita fans here! Also Mouse Guard (swordfighting, however, but heroic, not gorey). My kids have loved the giant Showcase Presents collections (old DC superhero comics from 40s/50s reprinted)–phone books, they're dubbed, big black-and-white reprint collections.

Jenni & Matt Holm's Babymouse series and Squish series

Lunch Lady series by Jarrett Krosoczka (she's a secret agent, saving kids from danger w/ wacky lunchroom spy gadgets, quite delightful)

Maybe take a look at the Amulet series by Kazu Kibuishi–10yo is probably the bottom age range there; I've only read book 4 and was lost on the ongoing storyline but I quite liked the subplots and the sci-fi/fantasy blend worldbuilding, and the art is simply stunning. Lush and wonderful.

Dan Santat's Sidekicks is great fun, and John Gallagher's Buzzboy — superhero fighting in both, no gore, comic in tone.

I really need to get around to writing a proper post about this–there are so many wonderful graphic novels for kids out there now. Eva Volin's website is a tremendous resource for reviews, btw.

Sarah says:

This is fabulous! My oldest just turned 10, and she is an avid reader! Often, I can't keep up with her ~ LOL! So, having good recommendations on hand is VERY, VERY helpful! Thank you!

sunny says:

Thanks for the list! The Prairie Thief is going to be a Christmas present for DD this year. I am sure she will love it!

She would also suggest adding The Rise and Fall of Mount Majestic to your list. It has been her favorite book for the last 2 years! http://www.amazon.com/Rise-Fall-Mount-Majestic/dp/0142419346/ref=sr_1_1?s=books&ie=UTF8&qid=1354566442&sr=1-1&keywords=rise+and+fall+of+mount+majestic

Melissa Wiley says:

Sunny, thanks for giving my book! Hope she enjoys it. I'll add Mt Majestic to my reading list!

Rebecca, your comment absolutely made my week. Compared to Totoro! Our family's most beloved movie, seriously. Tell him I said thanks!

Fanny Harville says:

Thanks for the graphic novel suggestions!

Melissa Wiley says:

Just realized I forgot to add Howard Whitehouse's delightful books! The Strictest School in the World: Being the Tale of a Clever Girl, a Rubber Boy and a Collection of Flying Machines, Mostly Broken and the other Mad Misadventures of Emmaline and Rubberbones books. 🙂

Also–The Moomin books in my sidebar!

Jennifer says:

The something children of Ashton Place series…??