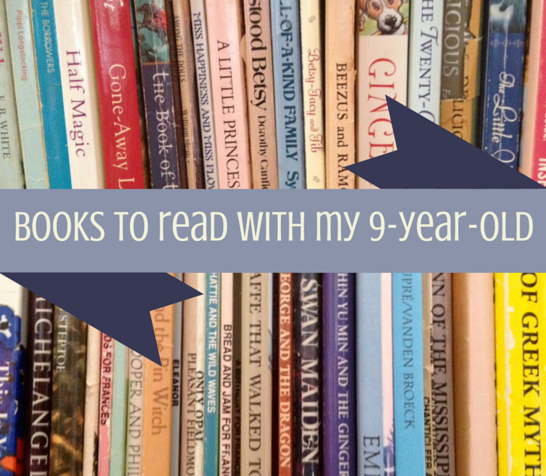 These are the books I've collected in one place for Rilla to pull from this year. They may be read-alouds or read-alones, depending on what we're in the mood for. I expect Huck will listen in on a lot of the read-alouds. (And probably the older kids too, sometimes, because we're like that.)
No particular order here. This is how they landed on the shelf. Will we read them ALL? It's a long list! Most likely we won't, but the idea is to pull together a rich selection of books to choose from. The history, science, mythology, and poetry selections (second half of list) form a kind of homeschooling core library, and the fiction and picture book choices (up top) will provide read-aloud and solo reading options for months to come. I've listed those first because they're what we'll lead off with most mornings, to make sure life doesn't crowd out the very best part of the day.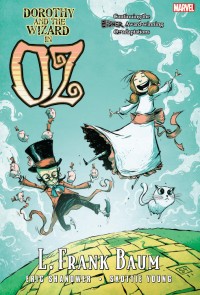 I'm quite sure other titles will join the list as we go. I can already think of a few I've left off, but which she may be ready for by the end of the year. (It doesn't help that Jane keeps thrusting more books at me. "I loved this one at her age!" She's my daughter, all right.) 😉
Naturally I expect Rilla will spend a lot of time revisiting some of her own favorites, especially the Oz graphic novel adaptations by Eric Shanower and Skottie Young and other comics.
Also!! We have Swallows and Amazons, Ballet Shoes, and Dancing Shoes on audio to listen to during our Saturday night art-and-audiobook sessions, now that we have made our way through most of Roald Dahl. (This, by the way, is the only reason Ransome, Streatfield, and Dahl aren't on the list below. I imagine Rilla will return to Matilda, James, the BFG, and Charlie at some point during the year—they were great favorites.)
I suppose I should also mention that Scott is currently reading her my Charlotte series at bedtime. He reads all my novels to the kids. I can't do it because I always want to tweak the writing. 🙂
For a look at what besides books will fill Rilla's days, see "High Tide for Huck and Rilla."

*An asterisk means the book has one or more sequels which may be added to this list
The Family Under the Bridge, Natalie Savage Carlson
Encyclopedia Brown, Donald Sobol*
The Rescuers, Margery Sharp
Turtle in Paradise, Jennifer Holm
The Stories Julian Tells, Ann Cameron*
The Green Ember, S. D. Smith
The Evolution of Calpurnia Tate, Jacqueline Kelly*
Peter Pan, J.M. Barrie
Akiko on the Planet Smoo, Mark Crilley*
The Book of Three, Lloyd Alexander*
Homer Price, Robert McCloskey
Pippi Longstocking, Astrid Lindgren*
Half Magic, Edward Eager*
Gone-Away Lake, Elizabeth Enright
Among the Dolls, William Sleator
Miss Happiness and Miss Flower, Rumer Godden
Understood Betsy, Dorothy Canfield Fisher
All-Of-A-Kind Family, Sydney Taylor*
Betsy-Tacy series, Maud Hart Lovelace (see my Reader's Guide to Betsy-Tacy)
Beezus and Ramona, Beverly Cleary*
Ginger Pye, Eleanor Estes*
The Twenty-One Balloons, William Pene du Bois
The Search for Delicious, Natalie Babbitt
The Last of the Sandwalkers, Jay Hosler
The Penderwicks, Jeanne Birdsall*
Five Children and It, E. Nesbit*
Farmer Boy, Laura Ingalls Wilder*
The Borrowers, Mary Norton*
The Gammage Cup, Carol Kendall* (my review)
Rowan of Rin, Emily Rodda*
A Little Princess, Frances Hodgson Burnett
Zita the Spacegirl, Ben Hatke*

Hattie and the Wild Waves, Barbara Cooney
Eleanor, Barbara Cooney
Only Opal, Barbara Cooney
Bedtime for Frances, Russell Hoban
Best Friends for Frances, Russell Hoban
Bread and Jam for Frances, Russell Hoban (nine years old is a perfect time to revisit Frances)
The Lady with the Ship On Her Head, Deborah Nourse Lattimore
The Giraffe that Walked to Paris, Nancy Milton
Pleasant Fieldmouse, Jan Wahl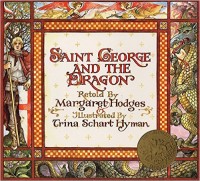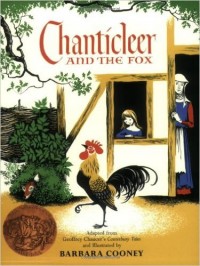 Saint George and the Dragon, Margaret Hodges
Chanticleer and the Fox, Barbara Cooney
The Mouse Bride, Judith Dupre
Chin Yu Min and the Ginger Cat, Jennifer Armstrong
The Swan Maiden, Howard Pyle
Mufaro's Beautiful Daughters, John Steptoe
(The folk and fairy tales could easily go with the group below, so I've stuck them kind of in between)

Barefoot Book of Animal Tales, Naomi Adler
Favorite Greek Myths, Mary Pope Osborne
D'Aulaires' Book of Greek Myths
A Wonder Book for Girls and Boys, Nathaniel Hawthorne
The Green Fairy Book, Andrew Lang*
The King of Ireland's Son, Padraic Colum
Tatterhood and Other Tales, Ethel Johnston Phelps
American Tall Tales, Mary Pope Osborne (finishing this one up)
Handbook of Nature Study, Anna Botsford Comstock (with some Outdoor Hour Challenges)
Drawing Birds with Colored Pencils, Kaaren Poole
Usborne Science Activities, Volume 1
Various field guides: Insects, Birds, Rocks
A Rock Is Lively, Dianna Aston & Sylvia Long
An Egg Is Quiet, Dianna Aston & Sylvia Long
A Nest is Noisy, Dianna Aston & Sylvia Long
Enid Blyton's Nature Lovers Book
One Small Square: Backyard, Donald M. Silver
Outside Your Window, Nicola Davies (nature poems)
A Child's History of the World, Virgil M. Hillyer (2-3 chapters a week)
One Day In Ancient Rome, G.B. Kirtland
Detectives in Togas, Henry Winterfield
A Street Through Time, Anne Millard
A World Full of Homes, William A. Burns
Material World: A Global Family Portrait
Tree in the Trail, Holling Clancy Holling (finishing from the spring)
Minn of the Mississippi, Holling Clancy Holling (a lot of nature/science crossover here)

The Mouse of Amherst, Elizabeth Spires (yes, again)
Joyful Noise: Poems for Two Voices, Paul Fleischman
Poetry for Young People: African American Poetry
Poetry for Young People: William Butler Yeats
The Oxford Illustrated Book of American Children's Poems, Donald Hall
Favorite Poems Old & New, edited by Helen Ferris (a family treasure!)
All the Small Poems & Fourteen More, Valerie Worth
Poetry for Young People: William Shakespeare
Beautiful Stories from Shakespeare for Children, E. Nesbit (one story a week)

Michaelangelo, Diane Stanley
What Makes a Bruegel a Bruegel
What Makes a Picasso a Picasso
Round Buildings, Square Buildings, Buildings That Wriggle Like a Fish, Philip M. Isaacson (posted about here)
A Short Walk Around the Pyramids & Through the World of Art, Philip M. Isaacson
Round Trip, Ann Jonas (a favorite with my babies, but if you look at it you'll see why it works for art as well)
Usborne Big Book of Things Do
Creature Camp: 18 Softies to Draw, Sew, & Stuff, Wendi Gratz
Draw Africa by Kristin J. Draeger
So many books!
As I said, I don't expect to read this entire list in a single year, especially the fiction selections at the top. And I'm sure Rilla will encounter other enticing titles along the way. Or maybe she'll get hooked on Redwall or Warriors like her sisters did at this age, and read those obsessively to the exclusion of things on this list. The point is for us to have a rich bounty to draw from, a shelf she knows she can go to whenever she needs something new. I would hazard we'll manage 1-2 read-aloud novels per month, depending on length. The rest will be options for her to read on her own. I'll let you know which ones we pick for read-aloud time.
The lower chunk of the list will serve as the spine for our high-tide mornings. A typical day's reading looks something like:
• Chapter of current read-aloud novel
• A poem or two, sometimes to memorize
• A chapter of Child's History of the World or a passage from Handbook of Nature Studies (alternating days)
• A Greek myth, folk tale, or Shakespeare story (about twice a week, and this may include longer picture books)
• Something from the art, science, or history lists (perhaps we do an experiment from Usborne Science Activities, or maybe we spend some time poring over Brueghel's paintings, for example)
• Whatever other books she is reading on her own
Some days have more reading aloud, some days less. Some days I focus more on the teens. Or a big sister might read to Huck and Rilla while I work with the other teen. Some days (or weeks) we'll follow a rabbit trail that may involve a library trip or two. But we always circle back to the tried-and-true favorites above (plus one or two new treasures). I love this list so much. These books live in that wonderful late-elementary space I love so dearly—as a writer, a reader, and a mom.
Next up: Huck's list! (Give me a few days.) 😉
Other Bonny Glen booklists:
Books to Read to Your Three-Year-Old
Books to Read to Your Four-Year-Old
My Big List of Book Recommendations
Science, Art, Game Ideas
What is Tidal Homeschooling?